Continuous monitoring of Hawaiian volcanoes with thermal cameras
Journal of Applied Volcanology
Society and Volcanoes
2014
3:1
Received: 2 August 2013
Accepted: 20 December 2013
Published: 21 January 2014
Abstract
Continuously operating thermal cameras are becoming more common around the world for volcano monitoring, and offer distinct advantages over conventional visual webcams for observing volcanic activity. Thermal cameras can sometimes "see" through volcanic fume that obscures views to visual webcams and the naked eye, and often provide a much clearer view of the extent of high temperature areas and activity levels. We describe a thermal camera network recently installed by the Hawaiian Volcano Observatory to monitor Kīlauea's summit and east rift zone eruptions (at Halema'uma'u and Pu'u 'Ō'ō craters, respectively) and to keep watch on Mauna Loa's summit caldera. The cameras are long-wave, temperature-calibrated models protected in custom enclosures, and often positioned on crater rims close to active vents. Images are transmitted back to the observatory in real-time, and numerous Matlab scripts manage the data and provide automated analyses and alarms. The cameras have greatly improved HVO's observations of surface eruptive activity, which includes highly dynamic lava lake activity at Halema'uma'u, major disruptions to Pu'u 'Ō'ō crater and several fissure eruptions.
Keywords
WebcamsinfraredKilaueaMauna Loatemperature
Introduction
Webcams are now a standard and essential component of effective volcano monitoring (Kirianov et al. 2002; Poland et al. 2008a; Hoblitt et al. 2008; Moran et al. 2008; Behncke et al. 2009; Ripepe et al. 2009; Patrick et al. 2010; Arason et al. 2011; Schaefer 2012; Orr et al. 2013a). Visible-wavelength (0.4-0.7 μm) webcams, however, have numerous limitations. In many cases, volcanic vents are obscured by thick volcanic fume (a term we use to refer to volcanic gas and particles, such as aerosols), severely impairing or blocking observations of activity. In other cases, it is difficult to identify the extent of hot volcanic material (such as lava or fumarolic surfaces), because these surfaces may not always be incandescent, or their incandescence may not be strong enough to stand out from sunlit surfaces. Low-light, or near-infrared (~1 μm), cameras offer an improvement upon visible-wavelength cameras in these regards (Sentman et al. 2010), but still suffer from these limitations to a large degree.
Thermal (i.e. long-wave infrared, 7.5-13 μm) cameras provide a valuable complement to visual cameras by mitigating the aforementioned problems. Often (but not always), thermal cameras can "see" through thick volcanic fume, providing a view of active vents that would not otherwise be possible. Perhaps most importantly, they offer an unambiguous depiction of the extent of hot, warm and cool areas, making discrimination between active, recently active, and inactive surfaces very straightforward. Unlike visible or near-infrared cameras, their capacity for observation is not significantly affected by diurnal changes in sunlight, enhancing the clarity of long-term observation.
Beyond tracking ongoing eruptions, thermal cameras can also monitor changes that may presage eruptive activity. Patrick and Witzke (2011) describe selected examples of thermal precursors that were observed at volcanoes including Tokachi (Japan; Yokoyama 1964), Mt. St. Helens (USA; Kieffer et al. 1981), Stromboli (Italy; Bonaccorso et al. 2003) and Santa Ana (El Salvador; Hernández et al. 2007). In Hawai'i, hikers observed red glow and anomalous steaming coming from cracks in the summit caldera of Mauna Loa a few days before the 1984 eruption began (Lockwood et al. 1987). Some of these observations of thermal precursors may have been serendipitous, and continuously-operating thermal cameras offer a continuous tool for detection of such precursors.
Handheld thermal cameras have been used in numerous field campaigns at many volcanoes around the world, but far fewer fixed, continuously operating, thermal camera installations exist. In the last ten years, however, more of these continuous systems have been installed on a handful of volcanoes. Thermal cameras at the summit of Stromboli volcano were vital in tracking the onset and progress of the 2007 effusive eruption, which began with the opening of hot fissures that drained the uppermost magma column (Ripepe et al. 2009; Calvari et al. 2010). Delle Donne et al. (2006) used data from a fixed thermal camera on Stromboli to analyze almost 20,000 explosions, and integrated the observed dynamics with infrasound to create one of the longest-term characterizations of strombolian explosive behavior to date. Thermal cameras are one component in an extensive network closely monitoring Mt. Etna, where explosive activity can rapidly threaten air traffic around the city of Catania (Alparone et al. 2007; Bonaccorso et al. 2011). Thermal cameras were installed in 2006 to monitor the fumarole field at Vulcano, Italy, and have detected a decreasing trend in fumarole temperatures (Lodato et al. 2009). Chiodini et al. (2007) describes a thermal camera installed in 2004 at Campei Flegrei, Italy, that detected subtle offsets in thermal output of the fumarole field associated with two seismic swarms, which may have impacted the hydrothermal system. A thermal camera was installed at Turrialba volcano in 2010 by University of Costa Rica geologists to monitor gas emission from fissures that opened in June 2007 (M. Mora, written communication). During the 2010 eruption of Eyjafjallajökull, Iceland, a telecommunications company installed a thermal camera about 10 km from the volcano to monitor activity. Yokoo (2009) used a continuously operating thermal camera, installed in 2007, to monitor the explosive eruptions at Sakurajima volcano, Japan, during 2008 and study the thermal evolution of the ash plumes. Thermal cameras have provided insightful results during field campaigns at Erebus lava lake (Oppenheimer et al. 2009), and plans are underway to install a permanent fixed camera there (N. Peters, written communication). Spampinato et al. (2011) and Harris (2013) provide comprehensive summaries of the theory of radiative transfer, technical limitations and recent applications of thermal cameras, both fixed and handheld, at volcanoes around the world.
In this paper, we detail the installation and image acquisition setup of several fixed thermal cameras on Kīlauea and Mauna Loa volcanoes in Hawai'i. These cameras were installed during 2010–2012 in a variety of environments and monitored volcanic processes including lava lakes, intracrater vents, fissure eruptions, lava flows and fumarolic activity (Patrick et al. 2012a). In addition to details on the equipment and setup specifications, we provide detailed summaries and code for the numerous Matlab scripts that manage image acquisition, image processing, data management and alarming (see Additional files 1, 2, 3, 4, 5, 6, 7). Finally, we highlight recent results from our thermal camera network, mostly during highly dynamic activity on Kīlauea in 2011, to demonstrate the potential of this system for both monitoring and understanding volcanic processes.
Background
Recent volcanic activity in Hawai'i
At the time of camera installation (2010–2012), there were two ongoing eruptions on Kīlauea Volcano (Figures
1
and
2
). First, the summit eruption in Halema'uma'u Crater began in March 2008, with the opening of a new vent immediately below the visitor overlook (Wilson et al.
2008
). By 2010, the "Overlook crater" had enlarged to about 150 m in width through episodic vent wall collapses (Orr et al.
2013a
). Since February 2010, a continuously active lava lake has been present deep within the vent crater (Orr et al.
2013a
). The measured level of the lava has varied between 22 and 210 m below the floor of Halema'uma'u Crater, and in 2013 was typically 30–50 m below. The lava lake experienced major fluctuations in height during 2011, with abrupt drops corresponding to eruptive activity on Kīlauea's east rift zone. The largest of these occurred in March 2011, when the lava lake dropped about 140 m (and disappeared from the vent crater) following the Kamoamoa intrusion/eruption in the east rift zone (Orr et al.
2013b
).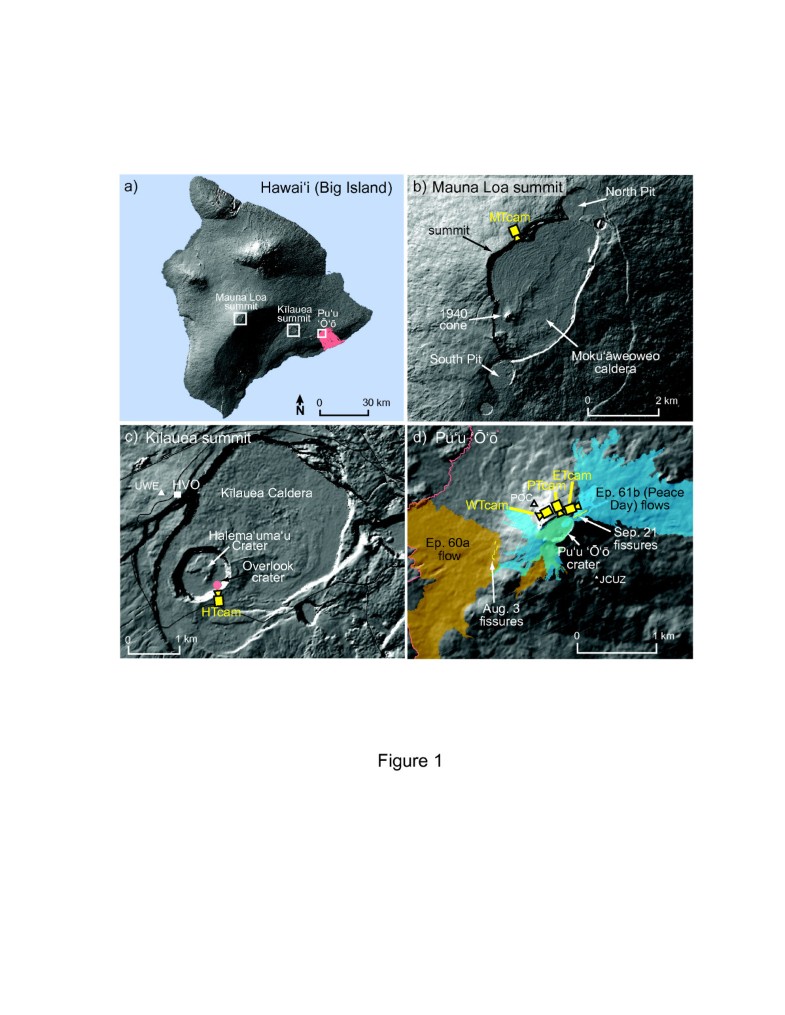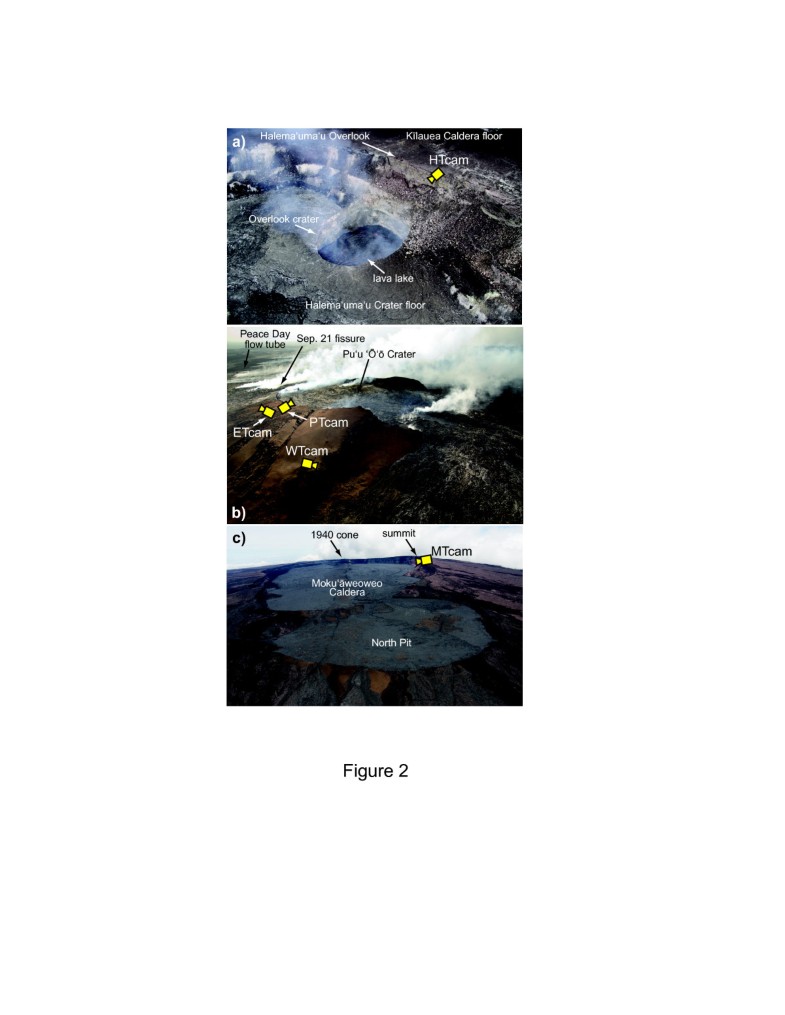 In addition to Kīlauea's summit eruption, the long-lived east rift zone eruption at Pu'u 'Ō'ō, which began in 1983 (Heliker and Mattox 2003), continued with episodes 58–61 during 2010–2012 (Orr et al. 2013b). Episode 58 (Poland et al. 2008b; Patrick et al. 2011a; Patrick and Orr 2011), ended with the Kamoamoa intrusion and fissure eruption (episode 59) in early March 2011 (Orr et al. 2013b). Following the Kamoamoa eruption, lava refilled Pu'u 'Ō'ō's crater (episode 60) and eventually broke out from the lower west flank of Pu'u 'Ō'ō cone in early August 2011. Lava refilled Pu'u 'Ō'ō once again (episode 61), and burst through the upper east flank in late September 2011. These "Peace Day" lava flows reached the ocean in December 2011 and remained active until late 2013.
Mauna Loa's most recent eruption was in 1984 (Lockwood et al. 1987), when flows stalled within 7 km of the outskirts of the city of Hilo (pop. 43,000). A period of pronounced summit inflation and deep long-period earthquakes in 2002–2004 suggested reawakening of the volcano but did not culminate in an eruption (Miklius and Cervelli 2003; Miklius et al. 2005; Amelung et al. 2007). During 2010–2012, deformation was minimal and earthquake activity was at background levels, giving no indication of imminent eruptive activity. Nevertheless, the time since Mauna Loa's last eruption stands as its longest historic repose period, based on data in Decker et al. (1995). Also, Mauna Loa's capacity for extremely high-effusion-rate flows (500 m3 s-1 or more, from Lipman and Banks (1987)) and high flow-advance rates requires close monitoring for potential signs of unrest. Fumarolic activity remains on the caldera floor (Casadevall and Hazlett 1983; Patrick and Witzke 2011).
Camera limitations
Although the cameras are intrinsically temperature-calibrated, numerous extrinsic field conditions can result in the measured, or apparent, temperature being different than the actual surface temperature (Ball and Pinkerton 2006 Harris 2013, Additional file 2). The apparent temperature measured by the cameras will usually be lower than the actual surface temperature for several reasons. First, volcanic fume between the target surface and the camera will attenuate the radiant signal of the surface significantly (Sawyer and Burton 2006). In some cases, particularly if there is much condensed water in the plume, the target surface may be entirely blocked by fume. Second, an individual pixel temperature will be a composite of all the temperatures within the pixel footprint. If the hot target is small and the majority of the pixel area is cooler, this "mixed pixel" issue results in the pixel-integrated temperature being significantly lower than that of the hot target. The pixel footprint size therefore plays a part in the temperature accuracy—and effective sensitivity—of the cameras (Ball and Pinkerton 2006). This relates to another limitation of the cameras: thermal camera images tend to be very low resolution (Spampinato et al. 2011). The cameras used in this study have image sizes of 320 × 240 pixels (0.08 megapixels), which was the standard resolution available for this type of camera in 2010. At a distance of 200 m, the pixel footprint for the 53° lens would be about 62 cm wide.
In some cases, the view of the target can be entirely blocked by volcanic fume. In Hawai'i, we have only seen this happen during phases when the plume is particle-laden—for instance, immediately after a rockfall into the vent. These episodes are infrequent and last only seconds; the remainder of the time, the plume is always transparent in the infrared and observation is therefore essentially continuous. In other cases, such as in Alaska, volcanic fume often completely blocks the view of thermal cameras (Wessels et al. 2012). This may be due to the lower ambient temperatures, and higher abundance of condensed water droplets in those plumes.
Notwithstanding the above limitations in temperature accuracy, temperature-calibrated thermal cameras still provide more information than simple "relative" values, which could be provided by less expensive, uncalibrated, cameras. First, the temperature values are more intuitively useful for characterizing activity than the digital numbers output by uncalibrated cameras. Even with the above limitations in accuracy, they often still provide a good "ball park" temperature that is useful for basic hazard assessment, particularly for the casual user. Second, in most cases, the apparent temperature values will be an underestimate of the true surface temperature, and thus they can be taken as a minimum value that often has use. For instance, when observing an apparent temperature of 300°C, we can assume the true temperature is higher than this, which in Hawai'i is normally indicative of active, flowing lava. For the equivalent scenario with an uncalibrated camera, we might observe a digital number of 3420, which we take as a minimum value, but this has little use without much more context that may not be available to the casual user.
Conclusions
Thermal cameras have dramatically improved HVO's observational capabilities. The cameras have provided views of volcanic activity that would simply not have been possible with visible-wavelength cameras, enabling uninterrupted surface observations. They allow us to visually monitor the summit lava lake continuously, and identify and locate active lava flows day or night. Although costly, we deem thermal cameras a highly worthwhile investment.
Declarations
Acknowledgements
Italian researchers were some of the earliest adopters of fixed thermal cameras on volcanoes, and this project was spurred in part by the demonstrated success of their systems. Specifically, Maurizio Ripepe (University of Florence) and Luigi Lodato (INGV-Catania) provided much helpful information on their fixed thermal camera setups on Stromboli and Vulcano, Italy. Andrew Harris provided additional helpful information, and Rick Wessels (AVO) provided advice and loaned us the FLIR A320 to test. Adolph Teves of AcTron Machine Co. worked closely with us to design the enclosure parts. Matt Ducharme and Kreg Kelley of Lumasense provided considerable assistance and answered many questions during initial camera setup. Bill Million and Cyril Moniz, both of HVO, have helped maintain the thermal cameras in the field. Comments from two anonymous reviewers were greatly appreciated. The use of manufacturer's names is provided for information only and does not constitute an endorsement by the US Geological Survey, the US Department of Interior or the US Government.
Authors' Affiliations
(1)
Hawaiian Volcano Observatory—US Geological Survey, USA
Copyright
© Patrick et al.; licensee Springer. 2014
This article is published under license to BioMed Central Ltd. This is an open access article distributed under the terms of the Creative Commons Attribution License (http://creativecommons.org/licenses/by/2.0), which permits unrestricted use, distribution, and reproduction in any medium, provided the original work is properly cited.