Vhub: a knowledge management system to facilitate online collaborative volcano modeling and research
Journal of Applied Volcanology
Society and Volcanoes
2014
3:2
Received: 15 August 2013
Accepted: 7 February 2014
Published: 14 February 2014
Abstract
Knowledge of volcanic systems and the hazards they produce is rapidly advancing as internet resources become more readily accessible, new and more sensitive field techniques are developed, and ever greater amounts of data are collected. Such rapid advances drive the need for an online collaborative knowledge management system that enables the sharing of volcanological information, and modeling and analysis tools. Vhub (http://vhub.org) is a community cyberinfrastructure platform designed for collaboration in volcanology research, education, outreach, and discovery that complements existing volcano databases and other cyberinfrastructure projects. Vhub is unique in its functionality as a nucleus for the creation of collaborative groups focused on issues such as code development, field research, education, and hazard mitigation. In addition, Vhub serves as a clearinghouse and virtual platform for computational tools relating to volcanic processes and data analysis, as well as documentation to aid in the use and understanding of these tools. By providing a means for scientists to easily disseminate data, models, and ideas, Vhub aims to promote collaboration amongst scientists and to provide resources for science education while advancing the state of understanding of volcanoes and the hazards they produce. This paper introduces the Vhub cyberinfrastructure and provides an overview of select hub features and resources.
Keywords
VolcanologyCyberinfrastructureKnowledge managementVolcano modelingVolcanic hazards
Introduction
Volcanology has been undergoing a fundamental transformation over the past 10–15 years brought about by the internet's facilitation of access to large volumes of information, greater community acceptance of computational modeling and statistical analysis, and increased attention to volcanic hazards. Despite these trends, the development of scientific research and applications that require numerical computation is hampered by the relative isolation of individual researchers and research groups, and by a gap between research-level development of computational models and their deployment at observatories with real-world hazard mitigation responsibilities. The emergence of innumerable web-accessible resources has many positive aspects, but sthese resources often have low visibility, insufficient documentation, and/or require computational resources or expertise that would-be end users do not possess. Each of these issues represents a barrier to the development and application or adoption of computational tools. There is an urgent need for a better approach to confront these issues that fall under the general topic of collaborative knowledge management. Such an approach should take advantage of the rapid growth of resources, provide new mechanisms for global collaboration in research, and disseminate resulting tools to researchers, observatory practitioners, educators and stakeholders, while reducing barriers associated with local infrastructure, and supporting continued growth of more focused resources that are locally managed at sites around the world.
In the 1990s, the nanoscience research community recognized similar barriers to progress within their own field and so began the development of a cyberinfrastructure "hub" to serve as a central online resource promoting connections amongst researchers and facilitating accessibility to models and information. The result of their efforts, nanoHUB (http://nanohub.org), has had profound effects on the rate of progress of nanoscience, making research tool development and use easily accessible, and enabling the use of advanced research tools for educational purposes. To support these efforts, software developers at Purdue University created the HUBzero® Platform for Scientific Collaboration (McLennan and Kennell 2010), the cyberinfrastructure that provides nanoHUB with all the functionality to develop and run online simulation tools, create private groups for collaboration, manage digital resources including videos, presentations and wiki-style content, communicate through a basic email-like messaging system, and many other capabilities.
The Vhub (short for "Volcanology hub") cyberinfrastructure builds upon the experience and success of nanoHub to advance collaborative knowledge development, storage, and transfer within the volcanological community. By January 2014 Vhub had logged more than 15,000 users and we expect a further increase within the next 5 years, following the trend exhibited at nanoHub (see Table
1
for a comparison of Vhub and nanoHub usage metrics; note that Vhub was created 8 years after nanoHUB, and compare the number of users between nanHUB 2005 and Vhub 2013). At its core, Vhub is a community-driven platform whose content is created and managed by its users (e.g. Elmagarmid et al.
2008
). As a heterogeneous science, volcanology encompasses a wide range of workers varying from those who are highly theoretical and computationally focused, to experimentalists, and to those whose work focuses on observational and analytical data (i.e., field geology, geophysics, geochemistry, and remote sensing). As a result, adoption of a hub environment by this community is complex and requires significant cross-disciplinary communication. Here we briefly describe and provide examples of some of the capabilities of Vhub that facilitate the advancement of basic and applied research currently being conducted by the diversity of work related to volcanoes, volcanic processes, and associated hazards.
Table 1
Comparison of usage statistics for nanoHUB during 2005 and 2013, and Vhub for 2013
| | nanoHUB 2005 | nanoHUB 2013 | Vhub 2013 |
| --- | --- | --- | --- |
| Registered users (1) | 2,179 | 27,726 | 1,157 |
| Unregistered interactive users (2) | 5,380 | 34,088 | 1,632 |
| Unregistered download users (3) | 11,309 | 243,425 | 12,368 |
| Total users (4) | 18,868 | 304,639 | 15,157 |
| Visitors (5) | 50,926 | 593,332 | 42,669 |
| Simulation users (6) | 1,660 | 13,106 | 550 |
| Simulation runs (jobs) | 53,660 | 501,469 | 22,544 |
Vhub development and vision
Vhub was conceived in 2008 with an initial focus on increasing accessibility both to quantitative models of volcanic processes and hazards, and to data sets collected for volcanoes around the world. Specifically, a means was sought to facilitate knowledge and data transfer between volcanic observatories and other researchers. While this core mission remains, Vhub has grown to provide a broader platform for collaborative research and education in volcanology (Figure
1
). The project was launched in 2010 with funding from the US National Science Foundation and includes a core development team at University at Buffalo, Michigan Technological University, and University of South Florida, along with a group of collaborators from the international community (
https://vhub.org/about/vhubteam
). The basic software infrastructure is maintained at Purdue University where the primary Vhub servers reside (see
https://hubzero.org
).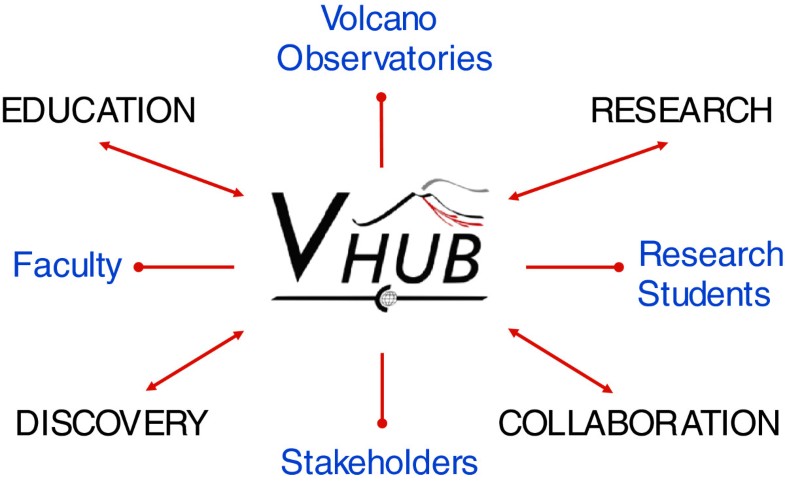 Vhub provides infrastructure for knowledge management, defined as "the creation, archiving and sharing of valued information, expertise and insight within and across communities of people and organizations with similar interests and needs" (Rosenberg 2001). In this context, Vhub development efforts have been consistent with the four general objectives of knowledge management projects (Davenport et al. 1998): 1) create knowledge repositories, 2) improve knowledge access, 3) establish an environment conductive to more effective knowledge creation, transfer and use, and 4) manage knowledge as an asset. Note that we use the word knowledge to mean not just information (data), but also tools to improve understanding and application of that understanding. Vhub is designed to function as a platform for sharing a variety of forms of knowledge, including a unique emphasis on computational tools pertaining to volcanology, and as a platform that facilitates collaboration. Vhub itself is not a database; databases can be shared on the platform, but Vhub aims principally to provide capabilities that complement rather than duplicate existing efforts centered specifically on compiling and managing data about volcanoes, such as the Global Volcanism Program (http://www.volcano.si.edu; Siebert et al. 2010), the Volcano Global Risk Identification & Analysis Project (http://www.bgs.ac.uk/vogripa/; Crosweller et al. 2012). Instead, Vhub is a portal to simulations, lectures, existing databases, educational resources, and other content of interest.
Cyberinfrastructure and membership
Vhub takes advantage of the HUBzero® open-source software platform. This software incorporates several well-known open-source packages, including an Apache web server, the Joomla content management system, PHP web scripting, and a MySQL database for storing content and usage statistics (Klimeck et al. 2008). The software is specifically designed to support scientific collaboration, research, education, and discovery, the four pillars of Vhub's organization (Figure 1). HUBzero can handle a variety of data types including documents created with Microsoft Office©, PDFs, ASCII files, images and video clips, analysis tools, and datasets. Additionally, all uploaded content is integrated with collaboration features such as forums, wikis, blogs and Q&A. Integrating all of these packages, the Vhub web site serves as the interface between the user and the platform.
While many Vhub resources are available to the public for viewing or downloading (Table
2
), membership is necessary to take full advantage of the platform. Becoming a member of the Vhub community is easy. The registration process is automatic and requires a minimum amount of personal information: login name, password, e-mail and employment status. Other information such as website url, telephone number, institution, and interests is optional, although useful for tracking Vhub's use. Once registered, members are assigned an ID number that can be used to access their profile, contributions, usage statistics, and personal blog. For example, the ID number of one of the authors of this article is 1097, and the url to his page is
https://vhub.org/members/1097
; to access his personal blog simply add "/blog" at the end of that url. Each Vhub member has a profile useful for sharing contact details, interests, and a short biography. All members are also provided with an internal messaging system to strengthen communication and collaboration between members. This system works like a basic web-based email client, and includes Inbox, Sent, Archive, and Trash folders. The user can set up which messages go to Vhub's internal Inbox and which are forwarded to an external email address. When composing a message the user can easily select any number of recipients from the list of Vhub members.
Table 2
Description of the different resource types available within Vhub
| Resource type(1) | Description |
| --- | --- |
| Courses | A collection of lectures and/or other types of educational materials that make a course on a specific topic. |
| Data sets/Collections | Repository of data from volcanic experiments, modeling, field trips, GIS, hazard mapping or other related work. |
| Educational materials | Individual educational materials aimed at teaching a specific subject such as lectures and homework assignments. For example, it can be a narrated presentation or a written document. They may also include a short video or web link to other type of media. Generally they are part of a set of complementary resources on a specific topic. |
| Online tools | A software application that allows users to run a specific type of calculation directly on VHub resources within your browser. They include numerical simulations of volcanic flows, statistical tools and algorithms to process and plot petrological data. |
| Offline tools | A downloadable software application that users can run on their own computer, subject to platform/software requirements. |
| Presentations | A lecture, seminar or other type of presentation in various types of media. Useful for sharing material presented at conferences or workshops. |
| Publications | A document relevant to the community that has been published in some manner. It includes white papers, theses, pre-prints, and magazine articles. |
| Workshops | A collection of lectures, seminars, and materials that were presented at a workshop. |
| Miscellaneous | Any resource that might not easily fit into any of the previous categories. |
| Topic pages and articles (2) | Wiki articles for explaining terminology, methodologies, resources or any topic of interest to the community. |
| Vhub blogs (3) | A public blog that any member can contribute to. It may be used, for example, to report volcanic activity or to describe meetings, workshops or courses. Members can upload their comments. |
| Personal blogs (4) | Every member can manage a personal blog in which only the member can add entries. They can be accessed by anyone. |
A personalizable user panel, or 'dashboard', is included to allow users to organize resources and user-specific information. Connecting via this interface, users view and interact with the site without needing to be aware of the complex system of software, data-storage devices, supercomputing hardware and other middleware that host and manage the content being accessed. Vhub members can thus focus only on the resources of interest to them while working towards their individual research, monitoring, or hazard mitigation goals. The dashboard can be accessed through the "My Account" link located at the top of the page. In addition to accessing a customizable dashboard and communication resources, establishing a membership account with Vhub will automatically allot users 1 Gb of disk space on hub servers, enabling them to run online simulation tools via the hub infrastructure.
Groups, collaboration, and sharing
Vhub provides capabilities for online collaboration in a variety of ways, including (1) within teams conducting basic research, (2) between participants and external advisors on complex hazard assessment projects, (3) between mentors/teachers and students, and (4) amongst community stakeholders. All such collaborations can have personalized privacy levels.
Collaboration can be restricted to a small audience through the creation of 'groups'. Each group has a dedicated url, a name, and a logo that are set when the group is created. Any registered user can create a group, set up the content of the group, and specify who can join. The user that creates the group automatically becomes a group manager. Managers can change the description and content of group pages, send messages to all or select members, cancel memberships, promote members to managers, and assign member roles.
Group privacy settings are controlled by group manager(s), including the option to determine what content is visible to the general public, to Vhub account holders, and to group members. If designated 'visible', groups can be found in searches as well as by browsing (https://vhub.org/groups/browse). If set to 'hidden', the group is only discoverable by group members. Unique access restrictions can be set to group content as well.
Four options are available to restrict the access to a group: "Anyone", "Restricted", "Invite Only" and "Closed". This allows options for membership to be requested by users and approved automatically, requested by users and approved by a group manager, initiated by group managers and accepted by users with no opportunity for users to request access, or closed such that no new members are accepted to the group.
Groups may have different purposes. Organizations such as the Commission on Monogenetic Volcanism of the International Association of Volcanology and Chemistry of the Earth's Interior, IAVCEI (
https://vhub.org/groups/iavcei_cmv
) and the Latin-American Volcanological Association, ALVO (
https://vhub.org/groups/alvo
) manage groups that operate as portals to the information and activities that they promote. Research teams may set up groups to discuss their progress and internally disseminate documents and ideas. Educators may decide to manage volcanology or hazards courses and include lectures, homework assignments, and class discussions as content. Groups can also be set up to restrict access to resources such as presentations and online computational tools, thereby keeping data and sensitive information private. Vhub groups have a variety of features to facilitate their work (Table
3
).
Table 3
Description of the features available for Vhub groups
| Group feature | Description |
| --- | --- |
| Overview | This section provides a general description of the group. It may also inform about membership restrictions and have announcements to the members. Subpages within this section may be created, for example to have a version of the overview in a different language, or to organize specific information about the group. The overview can only be edited by the managers of the group. |
| Members | List of all the members of the group. It includes the status (whether the member is a managers of the group or not) and the role of the member if it has been assigned. Managers can send messages to one or all members. |
| Wiki | Wiki pages are single pages that any member can create and comment on. It supports wiki formatting and allows the insertion of figures and documents. The content of these pages depends on the scope and organization of the group. |
| Resources | Presentations, data, documents, etc., that are uploaded by members of the group. When the resource is uploaded the author must select the group that the resource belongs to in the Group ownership section of the uploading process. Since all resources on Vhub have a unique url, members can add a direct link to the resource in any of the other group features. |
| Discussion | In this section a member can start or follow up on a discussion in any topic relevant to the group. Once a discussion has been started, other members can add comments, questions, answers, or further information on the topic. The managers can create categories to maintain the discussing organized. In other websites this capability is known as Forum. |
| Messages | This section contains all messages sent by the managers of the group to all group members. |
| Blog | This feature allows members to add communications of interest to other members of the group. Other members can add comments to the original posts. Similar to other blog services on the web, the posts are organized by date and the most recent and popular blogs are highlighted. |
| Wish list | A group wish is generally a suggestion for improvement that focuses on the content and work within the group. Any member can send a wish, comment and like or dislike existing wishes. A wish can then be accepted, rejected or granted. |
| Calendar | To add and discover upcoming events or activities related to collaboration and communication within the group. |
Vhub's Wiki pages and Blogs are additional means of communication that members of the platform can take advantage of (Table 2). While Vhub blogs are public and designed to contain information relevant to the general community, individual members are also provided dedicated blog space for personal communication; privacy settings for individual posts can be set when they are created or edited. Blogs can be used, for example, to report descriptions of volcanic activity or field trips, or to share personal points of view on specific subjects. A Wiki is a web-based hypertext system which supports community-oriented authoring that allows collaborative content creation (Shih et al. 2008). Vhub Wiki Pages and Articles may receive contributions from interested members either through direct editing of the wiki or through suggestions. Topic pages can be used, for example, as tutorial articles describing how laboratory techniques or computational tools work, to discuss the definition and proper use of volcanological terms, or to describe and discuss volcanological concepts (an example focusing on volcano remote sensing capabilities is https://vhub.org/topics/SatelliteMonitoring).
Knowledge repository and support network
Vhub hosts a Resource Warehouse organized into nine categories based on the type of content submitted: Courses, Data Sets/Collections, Education Materials, Offline Tools, Online Tools, Presentations, Publications, Workshops, and Miscellaneous. See Table 2 for a short description of each resource type. These contents are copyrighted by their authors and contributors, who give Vhub license to display and distribute the material according to the agreement detailed on the following webpage: https://vhub.org/legal/license. All resources on Vhub include a title, author list, abstract, and archival citation information. They are assigned a dedicated url that can be used for citation in journal publications (e.g. Rose 2011). Files uploaded to any individual resource are also assigned an exclusive url, which can be linked to from its abstract or from other resources. While there are no restrictions on the type of files that may be uploaded to the hub, in order to promote accessibility contributors are encouraged to avoid uploading files in proprietary formats that require commercial software for viewing. For example, it is recommended to save presentations and Microsoft Word documents as PDF documents before uploading to vhub.org. As part of the process of creating a resource, the contributor selects 'tags' to categorize the content. Tags are simply key words assigned to a resource by the user making the contribution. Tags are searchable and thus aid in resource discoverability.
Each time a new resource is created, the contributor must set the access level of its content. 'Public' resources grant full access, including access to the abstract and to any supporting documents uploaded with the resource, to anyone visiting the web page of that resource. When the resource is set to 'protected', the title and author list are visible to everyone but the abstract, references, citation information and any associated documents are only accessible by members of the specific group with which the resource is aligned. Like protected resources, 'private' resources must be aligned with a group. However in the case of private resources, only group members can discover and access the resource; in this case the resource and all associated content is hidden from all other users. Through these classifications, contributors have full control over whether a given resource is made available to the public or only to specified collaborators.
Since Vhub is a community-driven knowledge environment, we expect the community to contribute to this knowledge system and to learn from it at the same time. This increases the impact of collaboration and opens up new possibilities for users with few resources to gain access to collaboration pathways and shared resources.
Online simulation tools
The concept of knowledge transfer within Vhub includes development and dissemination of tools that promote the analysis and understanding of volcanic processes. To that end, one important feature of Vhub is its capacity to execute simulation, modeling, and data analysis programs within the user's web browser while the program being executed runs on remote computing resources, negating the need for the user to install software on their local machine. These 'Online simulation tools' include a graphical user interface (GUI) and documentation to facilitate and encourage volcanologists, particularly those who do not regularly use modeling tools, not only to take advantage of the computational resources available to them but to use each tool appropriately. The development and use of computational tools can benefit from the many collaboration features available on Vhub including discussion panels, internal messaging, wish lists, wiki pages, and Q&A sections. These tools help to bring together program developers, experts in the field, tool users, and educators. To facilitate appropriate use of modeling tools, Vhub encourages developers and experts to describe what the models can and cannot do, their advantages over other techniques, and their limitations, as well as to provide advice on how to read and use the model results.
Questions asked from within an online tool are linked to that tool and can be accessed through the "Questions" tab on the resource page (e.g. https://vhub.org/resources/pingu/questions). The developers of the tool get an email every time a question about their tool is posted. Unless the question is closed, any member can answer a question and contribute to solve problems using a tool. Finding or posting questions (and their answers) for specific tools is easy for regular users and developers, and facilitates feedback and collaboration. All questions are listed under "Questions and Answers" in the Explore submenu.
In order to facilitate implementation of numerical simulations and/or processing algorithms by users, Vhub hosts a library of educational and training material prepared by tool developers and expert users. This material may exist in video format, as a topic wiki page, or as a downloadable pdf or other type document. Course and/or workshop materials also provide background information on the theory and practical applications of simulation tools. The developers of the tools, as well as the authors of any other resource material, can track the number of users that have accessed their contribution and obtain feedback from the community.
Additionally, tool users have the ability to ask Vhub community members to view and comment on simulation results. Researchers and students can participate in discussions and establish new collaboration paths or suggest improvements to existing tools. Findings can be shared with the community within blog or topic pages. Educators can use resources to facilitate student learning in a classroom environment (e.g. Courtland et al. 2012). From interactions like these, innumerable collaborative research opportunities emerge, including opportunities for improving both the work of those who contribute to Vhub's knowledge repository and the users that benefit from that work.
Some of the computational tools currently available to Vhub users include: Energy Cone (rapid delineation of the impact zone by pyroclastic density currents; Sheridan and Macías 1995 Palma 2013a), Tephra2 (tephra dispersion forecast tool; Bonadonna et al. 2005 Bonadonna et al. 2013), Bent (atmospheric plume analysis; Bursik 2001; Bursik 2013), Hazmap (tephra dispersion forecast tool; Macedonio et al. 2005; Costa 2013), Titan2D (mass flow simulation tool; Pitman et al. 2003), PINGU (tool for plotting geochemical and petrological data; Cortés and Palma 2013) and BET_VH (Bayesian Event Tree analysis for Volcanic Hazards; Marzocchi et al. 2010; Tonini et al. 2012). The list of online simulation tools available on Vhub is expected to expand considerably as more volcanologists contribute tools and in so doing realize much more rapid dissemination of their work than through traditional routes (such as publishing a paper about a model and then providing the software upon request). Vhub is also becoming a central library for offline tools, which in some cases can be downloaded directly from the Vhub site (e.g., the Plumeria eruption column model; Mastin 2011) or in others provide links to the author(s)'s website where source code is available for download.
Some online simulation tools create files that are stored in the user's account within Vhub, and they are kept after the user ends the tool session. These files can be accessed and managed, at any time, through the Workspace tool or through WebDav (see https://vhub.org/kb/tips/webdav). Below and in the Appendix we illustrate usage of the online tools Workspace, Tephra2, and Titan2D, and the offline tool OMIplot.
Summary and conclusions
This paper provides a brief overview of many of the capabilities of Vhub, such as collaboration within groups, the deployment of modeling tools, and examples of online and offline tools. Vhub is a knowledge-management-system aimed at facilitating collaborative efforts to better understand volcanoes and to more closely link observatory practitioners with external resources as they emerge from the research community, and non-observatory researchers with the monitoring data and knowledge generated within volcano observatories. Vhub provides a mechanism for volcanologists to share knowledge and tools, and to rapidly connect users with the resources they need, whether they be students, academics, or volcano observatory personnel.
At its core, Vhub is a community driven effort that is constantly evolving in terms of the resources available within the hub, the ways that those resources are used, and the underlying cyberinfrastructure (software and hardware) itself. For example, significant current effort is focused on re-engineering core modeling tools for mass flows and tephra dispersion in order to make them more flexible for changing concepts and user needs, and in implementation of probabilistic models. Vhub goes beyond the traditional, static web presentation to provide an interactive platform capable of promoting explosive developments in the field of volcanology and volcano risk mitigation.
Declarations
Acknowledgements
Vhub is supported by the U.S. National Science Foundation, through NSF Grant DRL 0940831. The Vhub development team includes, in addition to the authors: M.I. Bursik, E.S. Calder, S.M. Gallo, P. Johnson, M. Jones, J.V. Bajo, S. Melander, C. Renschler, A. Patra, J. Cortés, D. Moore-Russo, B. Pitman (University at Buffalo); C. Connor, L. Connor (University of South Florida); S. Carn, and W. Rose (Michigan Technological University). Numerous others in the volcanology community have contributed to the resources at Vhub.
Authors' Affiliations
(1)
Departamento de Ciencias de la Tierra, Universidad de Concepción, Concepción, Chile
(2)
Department of Geology and Center for Geohazards Studies, University at Buffalo, Buffalo, USA
(3)
Department of Geology, University of South Florida, Tampa, USA
(4)
Geological and Mining Engineering and Sciences, 630 Dow Environmental Sciences, Michigan Technological University, Houghton, USA
(5)
School of Earth &, Environmental Sciences, Georgia Institute of Technology, Atlanta, USA
Copyright
© Palma et al.; licensee Springer. 2014
This article is published under license to BioMed Central Ltd. This is an open access article distributed under the terms of the Creative Commons Attribution License (http://creativecommons.org/licenses/by/2.0), which permits unrestricted use, distribution, and reproduction in any medium, provided the original work is properly cited.