Communicating the status of volcanic activity: revising New Zealand's volcanic alert level system
Journal of Applied Volcanology
Society and Volcanoes
2014
3:13
Received: 5 June 2014
Accepted: 14 August 2014
Published: 12 September 2014
Abstract
The communication of scientific information to stakeholders is a critical component of an effective Volcano Early Warning System. Volcanic Alert Level (VAL) systems are used in many countries as a tool within early warning systems to communicate complex volcanic information in a simple form, from which response decisions can be made. Such communication tools need to meet the requirements of a wide range of end-users, including emergency managers, the aviation industry, media, and the public. They also need to be usable by scientists who determine the alert levels based on integration and interpretation of volcano observations and monitoring data.
This paper presents an exploratory review of New Zealand's 20-year old VAL system, and for the first time globally, describes the development of a VAL system based on a robust qualitative ethnographic methodology. This involved semi-structured interviews of scientists and VAL end-users, document analysis, and observations of scientists over three years as they set the VAL during multiple unrest and eruption crises. The transdisciplinary nature of this research allows the system to be revised with direct input by end-users of the system, highlighting the benefits of using social science methodologies in developing or revising warning systems. The methodology utilised in this research is applicable worldwide, and could be used to develop warning systems for other hazards.
It was identified that there are multiple possibilities for foundations of VAL systems, including phenomena, hazard, risk, and magmatic processes. The revised VAL system is based on the findings of this research, and was implemented in collaboration with New Zealand's Ministry of Civil Defence and Emergency Management in July 2014. It is used for all of New Zealand's active volcanoes, and is understandable, intuitive, and informative. The complete process of exploring a current VAL system, revising it, and introducing it to New Zealand society is described.
Keywords
Volcanic alert levelsAviation colour codeCommunicationNew ZealandCivil protectionEmergency managementSocial scienceHazardEarly warning system
Background
Volcano early warning systems
Early Warning Systems for hazards can be defined as "the set of capacities needed to generate and disseminate timely and meaningful warning information to enable individuals, communities and organizations threatened by a hazard to prepare and to act appropriately and in sufficient time to reduce the possibility of harm or loss" (UN/ISDR [2009], p. 12). Within a Volcano Early Warning System (VEWS), monitoring data are collected and interpreted by scientists, the level of threat is determined, and the decision to alert end-users is made in a context of uncertainty (Fearnley [2013]). Warning information must be disseminated, and receivers of that information require the capability to respond for a VEWS to be effective (UN/ISDR PPEW [2006]).
End-users of volcano information may include civil defence and emergency management personnel; local, regional and national government authorities; civil aviation; major land managers; lifelines and utilities agencies; local businesses, including tourism operators, and their clients; the media; potentially affected residents; and the general public. The wide range of end-users' roles and experiences results in differences in their information needs. For example, each of the civil aviation, agriculture, conservation, utility, and transport sectors may require information on ash. Due to the diverse purposes and decisions made by these end-users, information on the ash thickness and composition, its temporal and spatial distribution, variations in meteorological conditions, and chemical interactions (e.g., interactions between ash and water or soil) may be required (Ronan et al. [2000]; Angrosino [2008]).
New Zealand has a range of types of volcanoes that are considered active or potentially active, including stratocones (White Island, Tongariro/Ngauruhoe, Mt. Ruapehu, and Taranaki), caldera volcanic centres (e.g., Raoul, Macauley, and Mayor Islands; Rotorua, Okataina, and Taupo), and intraplate volcanic fields (Auckland, Kaikohe-Bay of Islands, and Puhipuhi-Whangarei), although some have not erupted for tens of thousands of years. The most recent eruptions were small explosive events which occurred at Tongariro (August and November 2012), and White Island (2012–2013). New Zealand's risk environments also differ, ranging from potentially high in the Auckland Volcanic Field, which is overlain by a city of 1.4 million people, to relatively low at the unpopulated Mayor and Macauley Islands. Thus, it is necessary for any communication of scientific information to be effective, timely, and understandable to a diverse range of end-users in various socio-economic environments.
GNS Science monitors New Zealand's volcanoes through the GeoNet project and is responsible for issuing scientific advice on geohazards, as stated in a Memorandum of Understanding with the Ministry of Civil Defence and Emergency Management (MCDEM; GNS Science and MCDEM [2009]; Scott and Travers [2009]). There are a number of rapid detection monitoring and warning systems and alarms, including the Eruption Detection System (EDS) at Ruapehu, which is designed to detect eruptions and trigger automated lahar warning messages to the local ski area; the Eastern Ruapehu Lahar Alarm and Warning System (ERLAWS), which warns about lahars produced by the collapse of the Crater Lake natural dam (Sherburn and Bryan [1999]; Leonard et al. [2008]; Scott and Travers [2009]); and the Tongariro Eruption Detection system (TEDS) developed following the 2012 eruptions at Te Maari crater, Tongariro. Both EDS and ERLAWS are operated, monitored, and maintained by the primary land manager of Mt. Ruapehu, the Department of Conservation, with support from Ruapehu Alpine Lifts Limited (a ski field company), and GNS Science (Leonard et al. [2008]).
Volcanic information communication tools
The dissemination of scientific information and communication between agencies is critical to the effective management of a volcanic crisis (e.g., Fiske [1984]; Peterson and Tilling [1993]; Newhall and Punongbayan [1996]; McGuire et al. [2009]). In New Zealand, scientific discussions are held by GNS Science in collaboration with university scientists, and information is disseminated in a variety of formats.
A balance needs to be achieved between limiting errors in measurements and estimates of risk and eruption forecasts, and maintaining credibility and specificity, in order to retain trust and promote actions by end-users (Voight [1990]). In order for local authorities, media, and response personnel to understand and believe the issues facing a community, effectively prepare for them, and heed warnings, scientific information needs to be in an appropriate style, and contain appropriate content (Mileti and Sorensen [1990]).
It has been identified that locally appropriate communication methods should be established for the distribution of warnings, in order to be effective (IDNDR Early Warning Programme Convenors [1997]). Volcanic information in New Zealand is communicated using a number of methods and tools. A one-way communication of information (sometimes with prior multi-directional input) is provided before, during, and after volcanic crises through presentations by scientists during conferences, workshops, and public lectures; on websites; in scientific and non-scientific publications; and via the media. Additionally, multi-agency meetings provide the opportunity to present information to key stakeholders, including at local, regional and national Civil Defence and Emergency Management (CDEM) sector meetings, and volcano advisory group meetings. Likewise, emails, faxes, pager alerts, and SMS text messages provide one-way scientific information to registered end-users during crises or changes in volcanic activity. Volcanic ash impact posters (a product of the Volcanic Impact Study Group ([2014]), commissioned by the Auckland Lifelines Group) provide accessible information for critical infrastructure stakeholders.
Long-term hazard maps have been created for some of the more active volcanoes, based on geological evidence of past eruptions. Event-specific hazard maps are created before or during unrest, depending on the situation, likely vent location, and the style and magnitude of the potential eruption. Recently, social media, and `ask an expert' interactive online sessions have allowed question and answer sessions from the public in real-time. Informal conversations during meetings, workshops, or on the telephone provide end-users with more specific information from volcanologists, with the opportunity for two-way communication.
GNS Science issues information on volcanic activity on the GeoNet website ([2014]), social media, and through Volcanic Alert Bulletins (VABs), which are received by MCDEM and other registered agencies and individuals, including responding agencies, the media, and the public. MCDEM further disseminates the VABs through the National Warning System as an Advisory or Warning message (MCDEM [2006]).
The International Civil Aviation Organization (ICAO) Aviation Colour Code (ACC) was adopted by New Zealand in order to alert the aviation industry to changes in the status of volcanoes (Lechner [
2012
]; Figure
1
). When the ACC is changed by GNS Science, a Volcano Observatory Notice for Aviation (VONA) is communicated to New Zealand's Volcanic Ash Advisory Centre at MetService in Wellington, who further disseminate the information to the aviation sector (Lechner [
2012
]).

Volcanic alert level systems
Volcanic Alert Levels are a tool within a VEWS that simplify the communication of volcanologists' interpretation of data (Newhall [2000]). The VAL is disseminated with supporting information that provides more specific details and local context to enable responding agencies, the public, and other stakeholders to make informed decisions (Fearnley [2011]). VALs range in their use of colours, words, symbols, and numbers; inclusion of forecasting or predictive language; structure; number of levels; weighting towards unrest vs. eruptions; and the level of scientific jargon used.
VAL systems need to be carefully managed to provide adequate warning of an impending eruption, without resulting in too many `false alarms' (Newhall [2000]). Repeated `false alarms' can impact the credibility of the source of the information (Dow and Cutter [1997]). Nonetheless, scientists must be willing to freely move between VALs depending on the volcano's activity without being influenced by political pressure (Newhall [2000]), despite the difficulty of avoiding this (Metzger et al. [1999]; Fearnley, [2013]).
The first use of a VAL system in New Zealand was that created for a national exercise called Nga Puia, in 1992. A post-exercise review identified that the use of colours in both the VAL system and the `control zones' used in the exercise created confusion, and that there was a need for more useful public advice in the system (Martin [1992]). New Zealand's first official VAL system (referred to hereafter as `VAL V1') was created in 1994 based on the findings of the review process (according to correspondence and meeting notes stored in the GNS Science archives), and on lessons learnt from the Rabaul Caldera (Papua New Guinea) unrest episode and eruption response in the 1980s and 1990s (Nairn and Scott [1995]). VAL V1 was first used during increased activity at Mt. Ruapehu in December 1994. This experience caused the identification of a number of issues with the system, including the need for a level that recognised `no unrest', and conflicting definitions within a single level for different volcanoes (detailed further in Potter [2014]).
A revised VAL system was adopted in September 1995 (`VAL V2'), one week before the onset of the 1995–96 eruption episode at Ruapehu, and remained in use until June 2014. VAL V2 was divided into two systems (Figure
2
) – one for frequently active volcanoes (including Ruapehu, Tongariro, and White Island), and the other for reawakening volcanoes (including Taupo Volcanic Centre, Okataina Volcanic Centre, Auckland Volcanic Field, and Taranaki volcano). The VAL system is located in the MCDEM Guide to the National CDEM Plan (MCDEM [
2006
]; Section 19.4.2). VAL V2 was based on the volcano's current status, and was not necessarily predictive (Scott and Travers [
2009
]). Determining the VAL in New Zealand is the statutory responsibility of GNS Science (as stated in the Memorandum of Understanding between GNS Science and MCDEM [
2009
]). New Zealand's VAL system is for the communication of information derived by scientific monitoring and observations, and not for information relating to mitigation advice, such as areas of evacuation (unlike in other countries, such as a VAL system used in Mexico; De la Cruz-Reyna and Tilling [
2008
]). This is because roles and responsibilities are clearly defined between scientific agencies and emergency response in New Zealand, meaning that it would not be appropriate for GNS Science to issue response information. Changes in the VAL are disseminated in VABs, with accompanying situation-specific information.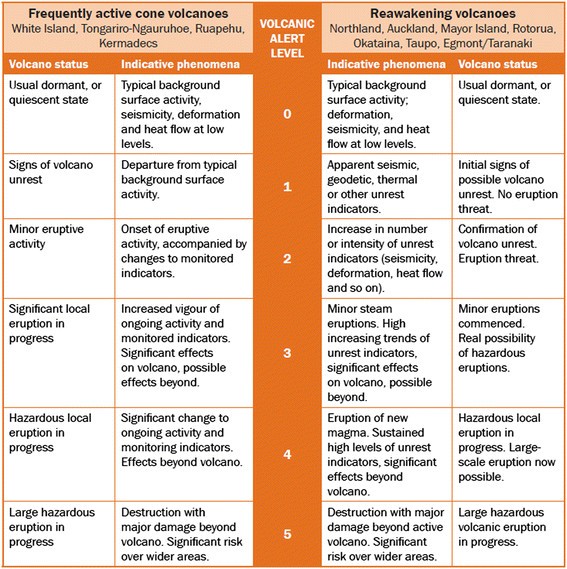 This paper describes the research used to explore VAL V2, including the meanings placed on the system by scientists and end-users, decisions made based on the information in the VAL system, and how it is used in practice. Based on this research, a revised version of the system has been developed (VAL V3). The process used to establish this system is also described.
Methodology
Research framework
A qualitative research framework was utilised to explore New Zealand's VAL system (VAL V2), as it enables the recognition of underlying meanings and reasons behind processes and choices more effectively than the use of more traditional quantitative research methods. This allows an understanding to be built based on listening to participants' ideas (Creswell [2003]). The use of qualitative research methods for volcanology issues has increased in popularity over time, with examples including research by Mader and Blair ([1987]), Paton et al. ([1998]), Metzger et al. ([1999]), Cronin et al. ([2004]), Haynes et al. ([2007], [2008]), Donovan et al. ([2012a], [b]), and Fearnley ([2011], [2013]).
The naturalistic setting used in this research (i.e., participants' normal places of work) permitted the collection of data to take place in an environment familiar to the participants, and promoted the inclusion of the local context as events were observed in real time (e.g., Denzin and Lincoln [1994]; Miles and Huberman [1994]).
A transdisciplinary approach was utilised, in which aspects of the disciplines of volcanology, communication, and emergency management were merged into a single approach (as described by Horlick-Jones and Sime [2004]). The inclusion of the opinions and knowledge of practitioners who use the VAL system in the development of a new, more effective system further demonstrates the transdisciplinarity of this research (as defined by Balsiger [2004]).
Research methods
An ethnographic methodology was used, which involves the study of a group of people and their culture (Patton [2002]). In this research, the group of people includes those that use the VAL system in New Zealand, including volcanologists at GNS Science. Understanding the culture within the volcanology department at GNS Science focussed on aspects relating to the determination of the VAL. Tacit knowledge is difficult to transfer between people, and is best obtained by being immersed into a group of people who have it (Collins & Evans, [2007]). It is an important aspect of this ethnographic research, as many of the processes influencing VAL system decisions in New Zealand stem from tacit knowledge. A genuine understanding of the VAL system and how it is used was built through multiple research methods within this ethnographic framework, and included interviews, participant observations, and document analysis.
Semi-structured interviews were conducted with 19 scientists and 13 end-users of the VAL system between mid-2011 and early 2012. Interviews are a method used to obtain participants' opinions, thoughts, and experiences. They enable the researcher to become aware of the internal thought processes of participants, which observations alone cannot do (Patton [2002]). Participants were identified through purposeful sampling (i.e., the intentional selection of people who fill roles that use the VAL system), reputational case selection (i.e., people recommended by other participants and experts in the field), and typical case sampling (i.e., people whose roles are more removed from the field of volcanic management but who may be called upon during future events), as defined by Miles and Huberman ([1994]). Scientist participants were from GNS Science (including technicians, scientists and management) and multiple universities in New Zealand. End-user participants were from local and regional CDEM organisations, MCDEM, civil aviation, the insurance sector, and a major land management agency. Interviews ranged in length from 30 to 90 minutes, and took place face-to-face. The interview questions focussed on obtaining the participants' perspectives of the VAL system that was in use (VAL V2). Thematic analysis of the transcribed interviews involved coding and the identification of themes (Braun and Clarke [2006]), which created a framework for further discussions and drawing conclusions. As only a sample of the complete end-user population was able to be included as participants in this research, the findings may not be representative of the wider population.
Participant observations (e.g., Adler and Adler [1994]) of the VAL decision-making process occurred within GNS Science (at Wairakei Research Centre). Participant observation is conducted through the immersion of the researcher into a willing community to experience ordinary events (Angrosino [2008]). In essence, it is the experiencing of naturally occurring events by the researcher (Wolcott [1999]). The focus of observations in this research was on the culture of GNS Science volcanology staff relating to their use of the VAL system (VAL V2), and the identification of improvements which could be made to the table that describes the VAL. The duration of immersion in the GNS Science community was three years, from August 2010 to August 2013. After the initial research planning stage and completion of the ethics approval processes, participant observations contributing towards the findings of this research took place between May 2011 and August 2013. The long duration of the observations allowed attendance at countless scientific meetings (including weekly volcano monitoring meetings and crisis response meetings), as well as those involving end-users and the public. The volcanology staff members at GNS Science were well aware that they were being observed, and they signed ethics consent forms. An active membership role of observation, involving participating in the groups' activities and taking on responsibilities (Adler and Adler [1994]), was assumed in this research. The presence of an observer may influence the behaviour of research participants, and the process of observation is inescapably selective because the researcher constantly chooses what to register and record (Miles and Huberman [1994]; Angrosino [2008]). On the rare occasion that a video camera or voice recorders were used some people changed their behaviour (including sitting where they were not visible by the camera, and seemingly censoring comments). However, due to the long time period of the observations and small proportion of discussions being recorded, the effect of the presence of an observer on the findings appeared to be insignificant. The benefits of including observation as a research method to validate interview findings are substantial. Findings based on the interview and observation methods are influenced by the participants involved in the research. Therefore they may not necessarily be representative of past or future scientist and end-user groups.
Document analysis is particularly useful to gain insight into historical events, as the documents were written closer to the time of the event, and therefore may be more accurate than recollections during retrospective interviews. A relatively informal approach to document analysis was utilised in this research due to the often subsidiary and complementary role of this method (Peräkylä [2008]).
Document analysis was used in this research to contribute towards:
1)

The creation of interview questions

2)

Analysis of how the VAL system (VAL V2) is used by end-users (using end-user response planning manuals)

3)

Analysis of how scientists determine the VAL (including receiving emails relating to participants' thoughts on the VALs)

4)

Understanding historical events involving the VAL system

5)

The development of foundations for future VAL systems (including detailed thoughts recorded in documents by participants).
Documents analysed included VABs for VAL changes before, during, and after previous events; end-user volcanic contingency plans (including those from regional CDEM Groups, local/district CDEM and the Civil Aviation Authority); and documents and emails written by participants containing their opinions on potential VAL systems for New Zealand and those used at other volcanoes worldwide.
The fortuitous occurrence of volcanic crises in New Zealand in mid- to late-2012 consisted of coinciding unrest (at Ruapehu, Tongariro and White Island) and eruptions (at Te Maari crater on Tongariro, and White Island) after years of quiescence. These events provided an ideal structure to this research, of pre-crisis interviews; participant observations and ethnographic informal conversations during the crisis; and feedback by participants on research findings after the events. The use of these multiple methods also enabled triangulation, one of the strategies commonly used in ethnographic research to increase the validity of the research through the strengths of one method compensating for the weaknesses of another (Wolcott [1999]; Patton [2002]; Creswell [2003]). Additionally, initial findings were triangulated through member checking (e.g., Stake [1995]), involving the dissemination of detailed research findings and a short summary document to all participants for feedback via email. Further potentially interested end-users and scientists who are likely to be affected by the research findings were also included in this process. Participants were asked to provide general feedback on the findings, and to rank the five example VAL systems described in section 3.4 in the order of their preference. Feedback was received by 43 per cent of those who received the findings (20 out of 47), 17 of whom provided their foundation preference, including eight end-users and nine scientists. This feedback was incorporated into the final results.
Ethnography is the "business of inquiring into other people's business" (Wolcott [1999], p. 284). It is this process that can potentially harm participants in ways that are not foreseen. Institutional ethics committees provide safeguards to ensure research is undertaken without harming participants' health and wellbeing (Corbin and Strauss [2008]). In this research, the risk to participants was carefully considered, and a low risk notification was accepted by the Massey University Ethics Committee (New Zealand) prior to the collection of data. Participants in this research and their views are kept anonymous, hence why we are unable to provide more details on which organisations the participants are from due to the small size of the volcano community in New Zealand. Quotes in this paper are attributed at the level of scientists (`Sc') and end-users (`EU').
For further details relating to the methodology, specific research methods utilised, details of limitations, and meetings attended, refer to Potter ([2014]). Based on these methodologies, the research findings are presented in the following section, and relate to the VAL system used in New Zealand between 1995 and 2014 (i.e., VAL V2). The findings contributed towards the subsequent development of the revised system (VAL V3), which was implemented in July 2014.
Implementation of a new VAL system for New Zealand
A draft new VAL system was developed based on the findings of this research. The final stage of developing the draft system into the published version (VAL V3) took nine months. It involved multiple iterations to slightly improve the wording and presentation; to achieve ownership by the scientists; to discuss the system with multiple end-user agencies; and to consult with MCDEM. The final version (VAL V3) of New Zealand's VAL system is presented in Figure
4
, and is published in the latest update of the Guide to the National CDEM Plan (MCDEM [
2006
], revised in June 2014). It is based on a foundation of currently occurring phenomena, and also includes hazard information to assist with end-user decision-making. It uses simple terminology that is sufficiently generic and more appropriate for the range of New Zealand's volcanoes and the VAL user groups.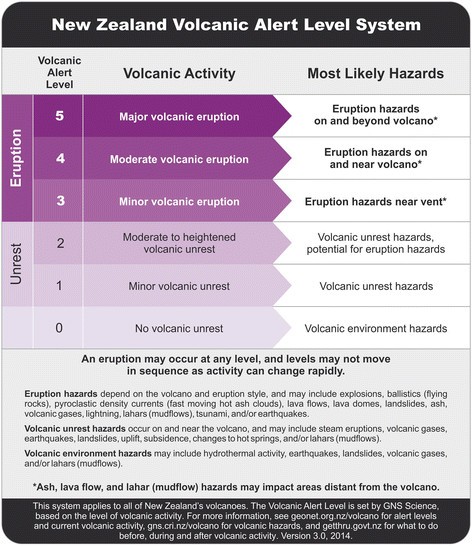 The visual presentation of the table was purposefully designed to enhance understanding of the table by end-users. This includes the incorporation of light to dark shading as levels increase, the addition of prominent `unrest' and `eruption' labels to the left of the table, and a shaded arrow pattern that emphasises the level of volcanic activity. The colour purple was selected for the table as it is seen as being not overly reassuring, and it is not used in the ICAO ACC or volcano hazard maps (to minimise the chance of relationships being drawn between the different systems).
The new VAL system is intended to be used in an `absolute' sense, where the intensity of activity is directly comparable between volcanoes. This follows the wishes of end-users in New Zealand who prefer the VAL system to indicate the comparable level of volcanic activity to non-scientists. It is currently envisaged that volcanoes which constantly show signs of activity (such as low levels of tremor or high heat flow with a magmatic gas component) will remain at alert level 1 (minor unrest), rather than alert level 0. The addition of a level representing moderate to heightened unrest (alert level 2) provides an opportunity to acknowledge situations where unrest has increased in intensity and the volcano may be more likely to erupt. The three eruption levels (minor, moderate, and major) are based on approximate magnitudes of eruption. In order to guide scientific determination of these levels, examples of past activity – predominately from New Zealand, with some international examples – have been allocated to each level (examples of these are given in Table
2
). Due to the comparable nature of the VAL system, Auckland Volcanic Field is unlikely to ever reach alert level 5 as, based on currently available geological evidence, it is very unlikely to produce an eruption similar in magnitude to those at Tarawera (1886; New Zealand), Mount St Helens (1980; USA), Pinatubo (1991; Philippines), or Taupo Volcanic Centre (232 AD; New Zealand).
Table 2
Typical examples of the level of activity at each Volcanic Alert Level (VAL V3)
| Volcanic Alert Level | Example of typical activity (see the GeoNet website ([2014]) for further details) |
| --- | --- |
| 5 | Tarawera (climax of 1886 eruption) |
| 4 | Mt. Ruapehu (climax of 1995–96 eruption) |
| 3 | White Island (early August 2012) |
| 2 | White Island (late July 2012) |
| 1 | Mt. Ruapehu (May 2014); Tongariro (May 2014) |
| 0 | Auckland Volcanic Field (May 2014); Ngauruhoe (May 2014) |
Information relating to the most likely hazards that will be seen at each level of volcanic activity is included in the new VAL system, with eruption hazards described in terms of the spatial extent of near-source phenomena. Distal hazards of ashfall, lahar and lava flows may occur from any level of eruption. Additional warning systems exist for ashfall and lahars; rapid detection warning systems are in place for lahars on Mt. Ruapehu (Sherburn and Bryan [1999]; Leonard et al. [2008]), and ashfall hazard maps are disseminated as needed. First and foremost, the determination of the VAL is based on the overall level of volcanic activity, and not on the spatial extent of the hazards.
Once the new VAL system was finalised, a communication strategy was created in conjunction with MCDEM to inform New Zealand's population about the change of system six weeks in advance of the changeover, which occurred on 1 July 2014. Supporting documents relating to the VAL were drafted, websites were updated, and information detailing the changes was circulated to end-users (including the media, and public via social-media) by GNS Science. In conjunction with this, MCDEM updated the Guide to the National CDEM Plan where the VAL system is officially kept, and coordinated communication and training in the CDEM sector. Informal feedback from end-users on the new system has thus far been positive, however at the time of writing (August 2014), it has not yet been tested by an eruption event. Regular reviews of the new VAL system are planned, to ensure it remains as effective as possible for a changing society in the future.
Conclusions
A qualitative research methodology was used to explore New Zealand's existing VAL system (VAL V2) with the involvement of end-users and scientists. Research participants identified a number of changes that would improve the effectiveness of the communication tool. These included merging two systems (for frequently active volcanoes and reawakening volcanoes) into one for all of New Zealand's volcanoes, simplifying the terminology, and replacing the indicative phenomena information with more useful hazard information. Five foundations of VAL systems were recognised: phenomena, magmatic processes, risk, hazard, and a combination of these. There was a slight preference towards retaining a foundation of phenomena, particularly if hazard information could also be incorporated. A draft VAL system was formed based on this research, which was finalised, implemented, and introduced to New Zealand society on 1 July 2014.
Traditionally, VAL systems were developed by physical volcanologists with minimal (if any) consultation with the end-users of the system, or with social science researchers. This research has highlighted the value of incorporating the viewpoints of both end-users and scientists in the development or revision of warning tools such as VAL systems. The social science methodology used to explore New Zealand's VAL system could be applied in other countries and for other hazards to develop robust alert level systems, to ensure the needs of all users are met to the highest possible level. If utilised, the development of alert level systems suitable for the requirements of the local settings will result. The importance of considering the local context in VEWSs was also recognised by Fearnley ([2011]).
The limitations of this research are that the methodology is rather time consuming in order to be detailed and robust, and that the public were not included as participants. Future research could explore the New Zealand public's opinion of the VAL system. A process needs to be established to evaluate the effectiveness of the VAL system on a regular basis, incorporating the viewpoints of both end-user and scientist groups. A similar review process should also occur for other volcanology communication tools, and for warning systems for other hazards to ensure that they are as effective as possible.
Authors' information
SP has a background in both geology and emergency management. The research presented in this paper was undertaken as part of her PhD research through Massey University, based at GNS Science and supervised by DJ, GJ, and VN. The draft VAL system was finalised by GNS Science following the completion of SP's research, steered by SP, BS, and GJ.
Abbreviations
ACC:

Aviation colour code
CDEM:

Civil Defence and Emergency Management
EDS:

Eruption detection system
ERLAWS:

Eastern Ruapehu Lahar Alarm and Warning System
GNS:

Science Institute of Geological and Nuclear Sciences, Ltd.
ICAO:

International Civil Aviation Organization
MCDEM:

Ministry of Civil Defence and Emergency Management
MetService:

Meteorological Service of New Zealand, Ltd
VAB:

Volcanic alert bulletin
VAL:

Volcanic alert level
VEWS:

Volcano early warning system
VONA:

Volcano observatory notices for aviation
Declarations
Acknowledgements
The authors would like to thank all research participants for their contribution to this research. In addition to the funding sources mentioned above, the following organisations and people are also acknowledged. The Ministry of Civil Defence and Emergency Management for supporting the development of a new VAL system; Douglas Paton, Antonia Lyons, and Emma Hudson-Doyle for their input to methodology design; Philip Carthew, from GNS Science, for graphics assistance in formulating the new VAL system; Kevin Fenaughty for GeoNet website assistance; Carina Fearnley for insightful conversations on VALs and for her helpful review of this paper; and an anonymous reviewer for their excellent suggestions.
Authors' Affiliations
(1)
GNS Science, Lower Hutt, New Zealand
(2)
GNS Science, Wairakei Research Centre, Taupo, New Zealand
(3)
Massey University, Palmerston North, New Zealand
(4)
Joint Centre for Disaster Research, Massey University, Wellington, New Zealand
Copyright
© Potter et al.; licensee Springer. 2014
This article is published under license to BioMed Central Ltd. This is an Open Access article distributed under the terms of the Creative Commons Attribution License (http://creativecommons.org/licenses/by/4.0), which permits unrestricted use, distribution, and reproduction in any medium, provided the original work is properly credited.