Reducing risk from lahar hazards: concepts, case studies, and roles for scientists
Journal of Applied Volcanology
Society and Volcanoes
2014
3:16
Received: 15 May 2014
Accepted: 21 October 2014
Published: 6 November 2014
Abstract
Lahars are rapid flows of mud–rock slurries that can occur without warning and catastrophically impact areas more than 100 km downstream of source volcanoes. Strategies to mitigate the potential for damage or loss from lahars fall into four basic categories: (1) avoidance of lahar hazards through land-use planning; (2) modification of lahar hazards through engineered protection structures; (3) lahar warning systems to enable evacuations; and (4) effective response to and recovery from lahars when they do occur. Successful application of any of these strategies requires an accurate understanding and assessment of the hazard, an understanding of the applicability and limitations of the strategy, and thorough planning. The human and institutional components leading to successful application can be even more important: engagement of all stakeholders in hazard education and risk-reduction planning; good communication of hazard and risk information among scientists, emergency managers, elected officials, and the at-risk public during crisis and non-crisis periods; sustained response training; and adequate funding for risk-reduction efforts. This paper reviews a number of methods for lahar-hazard risk reduction, examines the limitations and tradeoffs, and provides real-world examples of their application in the U.S. Pacific Northwest and in other volcanic regions of the world. An overriding theme is that lahar-hazard risk reduction cannot be effectively accomplished without the active, impartial involvement of volcano scientists, who are willing to assume educational, interpretive, and advisory roles to work in partnership with elected officials, emergency managers, and vulnerable communities.
Keywords
LaharHazard mitigationEvacuationHazard warningRisk reductionHazard education
Background
Lahars are discrete, rapid, gravity-driven flows of saturated, high-concentration mixtures containing water and solid particles of rock, ice, wood, and other debris that originate from volcanoes (Vallance [2000]). Primary lahars are triggered during eruptions by various eruption-related mechanisms; between AD 1600 and 2010 such lahars killed 37,451 people worldwide, including 23,080 in the 1985 Nevado del Ruiz disaster alone (Witham [2005]; Aucker et al. [2013]). During the same period secondary lahars, most commonly triggered by post-eruption erosion and entrainment of tephra during heavy rainfall, killed an additional 6,801 (Aucker et al. [2013]). Just in the past several decades, staggering losses from widely publicized lahar-related disasters at Mount St. Helens, USA; Nevado del Ruiz, Colombia; Mount Pinatubo, Philippines; and Mount Ruapehu, New Zealand, have demonstrated how lahars of both types significantly threaten the safety, economic well-being, and resources of communities downstream of volcanoes. Lahars can range in consistency from thick viscous slurries resembling wet concrete (termed debris flows) to more fluid slurries of mostly mud and sand that resemble motor oil in consistency (termed hyperconcentrated flows). These two types of flows commonly occur in all types of mountainous terrain throughout the world, but the largest and most far-reaching originate from volcanoes, where extraordinarily large volumes of both unstable rock debris and water can be mobilized (Vallance and Scott [1997]; Mothes et al. [1998]).
The destructive nature of lahars derives from their speed, reach, and composition—and our difficulty in predicting (in the absence of warning systems) when they may occur. Large lahars commonly achieve speeds in excess of 20 m/s on the lower flanks of volcanoes and can maintain velocities in excess of 10 m/s for more than 50 km from their source when confined to narrow canyons (Cummans [
1981
]; Pierson [
1985
]; Pierson et al. [
1990
]) (Table
1
). Impact forces from multi-ton solid objects commonly suspended in debris-flow lahars (such as large boulders, logs, and other debris) and drag forces exerted by the viscous fluid phase can destroy almost any structure (Figure
1
a). Hyperconcentrated-flow lahars damage structures primarily through vigorous lateral erosion of channels that results in bank collapse (Figure
1
b). Both flow types commonly occur during a single lahar event as the highly concentrated head of a lahar typically transitions to a more dilute tail. On flow margins or at the downstream ends of depositional zones where velocities are much slower, lahars can encase buildings, roads, towers, and farm land in mud-rock slurries that can dry out to near concrete-like hardness. Yet fresh lahar deposits, commonly many meters deep, can remain fluidized like quicksand for days to weeks, complicating search and rescue efforts. Although most lahars are triggered during or shortly after volcanic eruptions, they can also be initiated without warning by noneruptive events, such as the gravitational collapse of structurally weakened volcanic edifices, large earthquakes, lake outbreaks, or extreme rainfall.
Table 1
Examples of lahar travel times from lahar source areas (points of initiation) to selected locations in downstream river valleys
Lahar date

Specified locations

Lahar trigger

Distance of specified location from lahar source (km)

Travel time from lahar source to specified location (min)

Average speed (meters per second)1

1926

Points along Hurano River, downstream of vent at Tokachidake volcano, Japan

Eruption (pyroclastic density current on snow and ice)

2.4

1

42

6.4

4

26

20.0

17

16

23.2

29

5

1980

Points along Pine Creek, downstream of vent at Mount St. Helens, USA

Eruption (pyroclastic density current on snow and ice)

10.1

7

24

14.1

11

16

16.8

13

18

20.9

19

14

1985

Point along Denjo River, downstream of landslide at Mount Ontake volcano, Japan

Earthquake-triggered slope failure

11.4

10

19

1985

Points along Río Chinchiná, downstream of vent at Nevado del Ruiz volcano, Colombia

Eruption (pyroclastic density current on snow and ice)

11.3

20

10

33.0

70

7

68.6

172

6

1990

Points along Drift River, downstream of vent at Redoubt Volcano, Alaska

Eruption (pyroclastic density current on snow and ice)

7.6

8

16

18.5

27

10

1994

Points along Río Páez, downstream of vent at Nevado del Huila volcano, Colombia

Earthquake-triggered slope failures

4

2 to 3

22 - 33

9

6 to 92

17 - 25

30

20 to 302

17 - 25

Various approaches to reduce and manage societal risks associated with lahar hazards have been applied over the years (Neumann van Padang [
1960
]; Smart [
1981
]; Suryo and Clarke [
1985
]; Pierson [
1989
]). These approaches fall into four basic categories of mitigation, including hazard avoidance, hazard modification, hazard warning, and hazard response and recovery (Figure
2
). The goal of this paper is to provide an overview of each of these risk-reduction strategies and to highlight case studies of how (and how effectively) they have been applied at volcanoes around the world. The timing and magnitude of future lahars is uncertain and risk reduction efforts can be financially and politically costly; therefore economic, political, and social factors can compromise the implementation and long-term effectiveness of any strategy (Voight [
1990
], [
1996
]; Newhall and Punongbayan [
1996
]; Peterson [
1996
]; Prater and Lindell [
2000
]). We begin by discussing the importance of hazard and risk education for affected populations, elected officials, and emergency managers. We end by reemphasizing the call for committed involvement by volcano scientists in developing and executing these strategies. Scientist involvement improves the credibility and the efficacy of risk-reduction efforts. When the risks are perceived as credible and risk-reduction strategies are understood, tragic losses from future lahars on the scale of 20
th
-century lahar disasters can be avoided or at least minimized.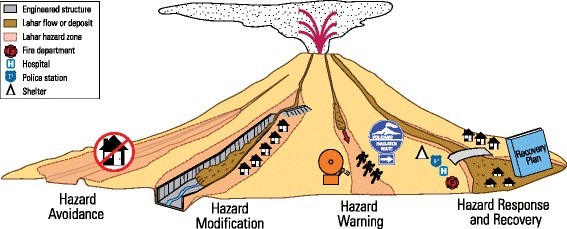 Hazard and risk education
The foundation for all risk-reduction strategies is a public that is well informed about the nature of hazards to their community, informed about how to lessen societal risk related to these hazards, and motivated to take risk-reducing actions. This knowledge base and accompanying appreciation of volcano hazards are needed to increase the interest and ability of public officials to implement risk-reduction measures and create a supportive and responsive at-risk population that will react appropriately when an extreme event occurs. Volcano scientists play a critical role in effective hazard education by informing officials and the public about realistic hazard probabilities and scenarios (including potential magnitude, timing, and impacts); by helping evaluate the effectiveness of proposed risk-reduction strategies; by helping promote acceptance of (and confidence in) hazards information through participatory engagement with officials and vulnerable communities as partners in risk reduction efforts; and by communicating with emergency managers during extreme events (Peterson [1988], [1996]; Cronin et al. [2004b]; McGuire et al. [2009]). But before successful use of hazard information can occur, the scientists' first and main role is to make technical data, hypotheses, and uncertainties understandable to non-technical users of hazard information. Serious misunderstandings can arise, sometimes with tragic consequences, when scientists do not perform this role effectively (Voight [1990]; Hall [1992]).
An effective hazard education program begins when scientists inform people in vulnerable communities about past hazardous events and current threats—information necessary for preparedness for future events. Scientists need to be involved in hazard-education efforts, because they provide the needed hazard expertise, and the public tends to imbue them with a high level of trust (Ronan et al. [
2000
]; Haynes et al. [
2008
]; Mei et al. [
2013
]). But the straightforward presentation of information that may seem logical to many scientists may not be effective; hazards information must be transmitted in ways that are not only understandable but also emotionally palatable and culturally relevant to the target audience (Cronin et al. [
2004b
]). People are more likely to implement risk-reduction strategies before an event or evacuate during an event if they comprehend that past events have impacted their communities, if they believe that future events could do so again and that viable mitigation options exist, and if they themselves have been involved in determining their community's risk-reduction strategies (Mileti [
1999
]). Community adoption of mitigation strategies is also more likely if hazard education is integrated into existing development programs and if it includes discussion of tangible actions that can be taken to protect lives and livelihoods, instead of just discussing uncontrollable threats (Paton et al. [
2001
]). The types of educational products, activities, and tasks that benefit from the active participation of scientists are varied (Figure
3
):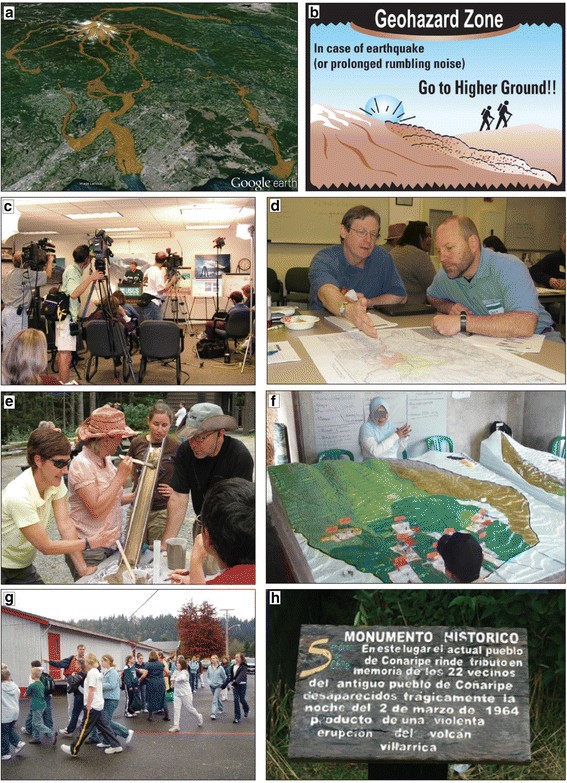 Hazard education materials should be tailored to address the demographics and socioeconomic context of at-risk populations (e.g., Wood and Soulard [2009b]). This may include providing information in multiple languages on signs, pamphlets, and warning messages where appropriate, or conveying information in pictures or cartoons to reach children and nonliterate adults (Ronan and Johnston [2005]; Tobin and Whiteford [2002]; Dominey-Howes and Minos-Minopoulos [2004]; Gavilanes-Ruiz et al. [2009]). Educational outreach should also include efforts to reach tourists and tourism-related businesses, because these groups may lack hazard awareness and knowledge of evacuation procedures (Bird et al. [2010]).
A hazards and risk education program can increase its effectiveness by focusing outreach on those individuals and groups who can further spread information throughout a community. Such outreach can target institutions such as social organizations, service clubs, schools, and businesses, as well as trusted social networks (Paton et al. [2008], Haynes et al. [2008]). The key to sustaining hazard education is to identify and train community members with a vested interest in preparedness, such as emergency managers, educators, health advocates, park rangers, community and business leaders, and interested residents and other stakeholders. Training community members to integrate hazard information into existing social networks is especially crucial for hard-to-reach, potentially marginalized community groups, such as recent immigrants, daily workers coming from outside of hazard zones, or neighborhoods with people who don't speak the primary language (Cronin et al. [2004a]).
Direct involvement in training community members and elected officials extends a scientist's capacity to educate a community. It also provides opportunities for scientists to gain insight on how people conceptualize and perceive the hazards and the associated risks (for example, the role traditional knowledge and local experience), strengths and weaknesses of communication lines within a community, and any context-appropriate measures that might be used to increase local capacity for risk reduction (Cronin et al. [2004b]). Several studies have shown that people's behavior towards volcano risks is influenced not only by hazards information but also by the time since the last hazardous event and the interaction of their perceptions with religious beliefs, cultural biases, and socioeconomic constraints (Lane et al. [2003]; Gregg et al. [2004]; Chester [2005]; Lavigne et al. [2008]). Understanding these influences and the socio-cultural context of risk is important if scientists are to successfully change behaviors and not simply raise hazard awareness. Participatory methods such as three-dimensional mapping (Gaillard and Maceda [2009]) (Figure 3f), scenario planning (Hicks et al. [2014]), participatory rural appraisals (Cronin et al. [2004a][2004b]), and focus group discussions (Chenet et al. [2014]) can be used to understand the societal context of volcanic risk, to integrate local and technical knowledge, and to promote greater accessibility to information. These "bottom-up" efforts, as opposed to government-driven efforts that are perceived as "top-down", promote local ownership of the information (Cronin et al. [2004b]), empower at-risk individuals to implement change in their communities (Cronin et al. [2004a]), and can result in risk-reduction efforts becoming an accepted part of community thinking and daily life.
Finally, scientists should understand that effective hazard and risk education is a long-term investment of time and resources and will not be a one-time effort. One issue is that people may show great enthusiasm in hazards and risk information at public forums, but their interest and participation in risk-reduction activities may diminish over time as other day-to-day issues become higher priorities. Another issue is unavoidable turnover among users of hazards information. Elected officials may retire or be voted out of office. Emergency managers, first responders, and teachers may transfer to other positions or retire. People move in and out of vulnerable communities. So, just as scientists continually monitor changing physical conditions at volcanoes, they should also appreciate the dynamic nature of the perceptions and knowledge of hazards within communities, agencies, and bureaucracies—and plan for sustained education and outreach efforts.
Strategies for lahar-hazard risk reduction
Each of the four basic risk-reduction strategies of hazard avoidance, hazard modification, hazard warning, and hazard response and recovery (Figure 2) has basic underlying requirements for successful application. These requirements include an accurate assessment of the hazard; a realistic understanding by elected officials, emergency managers, and at-risk populations of the hazards, risks, and limitations of any implemented strategy; thorough planning; adequate funding; practice exercises and drills, where appropriate; and effective communication among stakeholders during actual lahar occurrence (Mileti [1999]; Leonard et al. [2008]). Scientists have important roles to play in all of these underlying requirements.
Scientist roles in lahar risk reduction
All four of the basic strategies for lahar-hazard risk reduction—hazard avoidance, modification, warning, and response/recovery—require the input and judgment of volcano scientists, even though emergency managers and public officials have the responsibility for their planning and implementation. In addition, scientists play a critical role in educating emergency managers, public officials, and at-risk populations about lahar hazards. Specific ways that scientists can participate are discussed in the sections above.
Some scientists are uncomfortable participating in processes that are influenced (if not dominated) by social, economic, and political factors. However, risk managers cannot successfully manage natural threats to communities without involvement by scientists (Peterson [1988], [1996]; Hall [1992]; Haynes et al. [2008]). Peterson ([1988]) goes as far to say that scientists have an ethical obligation to effectively share their knowledge to benefit society by making their knowledge understandable to non-scientists. Scientists can communicate hazard information to the public through formal and informal face-to-face meetings, through public presentations, and through the media. Qualities exhibited by scientists that enhance their trustworthiness in the eyes of the public are reliability (consistency and dependability in what they say), competence (having the skills and ability to do the job), openness (having a relaxed, straightforward attitude and being able to mix well and become `part of the community'), and integrity (having an impartial and independent stance) (Pielke [2007]; Haynes et al. [2008]). Yet there is always a potential for friction and other distractions during the stressful time of a volcano crisis, and scientists should recognize and try to avoid the various problems related to personal and institutional interactions that have plagued the credibility of scientists during past volcanic crisis responses, such as communications breakdowns and disputes among scientists (with different messages coming from different scientists), scientists advocating for particular mitigation strategies, scientists avoiding or "talking down" to the public, poor scientific leadership, failure to recognize cultural differences between themselves and affected populations, and failure to share information and scarce resources (Newhall et al. [1999]).
Effective lahar-hazard risk reduction cannot occur unless the hazard and its attendant risks are recognized by authorities and the public, and this recognition is affected by the willingness and ability of scientists to communicate hazards information (Peterson [1988]). The contributions of scientists will be effective if they are willing to embrace their educational, interpretive, and advisory roles, to work in partnership with officials and the public, and to be sensitive to the cultural norms of the society in which they are working. Scientists must be willing and able to participate in community events, hone skills related to public speaking, work with the media, and work one-on-one with community leaders. As Newhall et al. ([1999]) state, the guiding principle for scientists during volcanic crises should be to promote public safety and welfare. This principle extends to non-crisis situations, as well, and scientists can and should work with officials and the public frequently to lessen the risk from future lahars. In short, lahar-hazard risk reduction cannot be effectively accomplished without the active, impartial involvement of qualified scientists.
Authors' information
TCP is an expert on lahars and lahar hazards with the U.S. Geological Survey Volcano Science Center. He has personally observed and advised on the effectiveness of various lahar risk-reduction strategies in various parts of the world.
NJW is an expert on natural hazard risk and vulnerability reduction and on how hazards information affects responses of officials and at-risk populations. He works extensively with vulnerable communities and is attached to the Western Geographic Science Center of the U.S. Geological Survey.
CLD is a specialist on volcano hazard communication and education for officials, emergency managers, and the public with the U.S. Geological Survey Volcano Science Center. She is extensively involved in developing training curricula and materials on hazards education topics for schools (teachers and students), emergency managers, national park visitors, and the media.
Abbreviations
AP:

Associated Press
DROT:

Drift River Oil Terminal (Alaska)
IAVCEI:

International Association of Volcanology and Chemistry of Earth's Interior
NOAA:

National Oceanic and Atmospheric Administration (USA)
OFDA:

Office of Foreign Disaster Assistance
SRS:

Sediment Retention Structure
UNDRO:

United Nations Disaster Relief Organization
USACE:

U.S. Army Corps of Engineers
USAID:

U.S. Agency for International Development
USGS:

U.S. Geological Survey
Declarations
Acknowledgments
This review of strategies for lahar risk reduction is based not only on the literature cited, but also on observations made by the authors of the practical application of these techniques in many parts of the world, combined with their own direct experience and research. Photographs with credits in the form of initials were taken by the authors. Work by the authors on this topic has been supported over the years by the USGS Volcano Hazards Program, the USGS/USAID–OFDA Volcano Disaster Assistance Program, and the USGS Land Change Science Program. We thank Kelvin Rodolfo, Franck Lavigne, and one anonymous reviewer for their insightful reviews of an earlier version of the article. Any use of trade, product, or firm names is for descriptive purposes only and does not imply endorsement by the U.S. Government.
Authors' Affiliations
(1)
U.S. Geological Survey, Volcano Science Center, Cascades Volcano Observatory, Vancouver, USA
(2)
U.S. Geological Survey, Western Geographic Science Center, Portland, USA
Copyright
© Pierson et al.; licensee Springer. 2014
This article is published under license to BioMed Central Ltd. The article is a work of the United States Government; Title 17 U.S.C 105 provides that copyright protection is not available for any work of the United States government in the United States. Additionally, this is an open access article distributed under the terms of the Creative Commons Public Domain Dedication waiver (http://creativecommons.org/publicdomain/zero/1.0), which permits worldwide unrestricted use, distribution, and reproduction in any medium for any lawful purpose.