Beyond the volcanic crisis: co-governance of risk in Montserrat
Journal of Applied Volcanology
Society and Volcanoes
2015
4:3
Received: 7 July 2014
Accepted: 18 December 2014
Published: 24 January 2015
Abstract
Disaster risk governance is concerned with how institutions change in response to perturbations or, conversely, are able to remain static for long periods of time. In Montserrat, the volcanic eruption in 1995 produced unprecedented challenges for both local government authorities and the UK Government. The sharp and sustained rise in the level of volcanic risk combined with an inadequate response from UK and local authorities prompted a shift in governance arrangements, and when levels of risk declined these new configurations did not go back to their pre-crisis state.
This paper focuses on one aspect of this governance transition: the relationship between the local Montserratian government and the UK government. Before the eruption Montserrat enjoyed high levels of political and fiscal independence from the UK in disaster risk management and other investment decisions, but the volcanic crisis highlighted low levels of capacity and the inherent instability in this system. A new co-governance regime was established after the crisis, characterised by greater UK intervention in local investment decisions and some loss of political sovereignty. On the other hand, Montserrat has become more integrated in regional and international disaster risk governance systems, and today the division of local and central responsibilities for different aspects of disaster risk management is much clearer than before the volcanic crisis.
This paper demonstrates how disasters can create spaces for existing risk governance systems to be questioned and modified. The volcanic crisis led to a reconsideration of responsibilities and risk management practices by both Montserratian and UK authorities, and initiated a process of transformation in land-use and development planning that has substantially reduced levels of volcanic risk on the island. However, these benefits have to be weighed against loss of livelihoods for a significant proportion of the population and considerable social upheaval.
Critical to the success of this new development model is the need for vertical coherence and dialogue between different stakeholders. Montserrat and UK risk governance systems are more integrated now, but unless communities are engaged in risk management decisions, Montserrat's low- risk development model could come unstuck. Small islands with large risks can learn a lot from the Montserrat experience.
Keywords
Disaster risk managementVolcanoMontserratGovernanceRisk tolerance
Background
A disaster risk governance system comprises a complex web of actors and networks involved in formulating and implementing polices to manage disaster risk, institutional arrangements that determine the relationships, roles and responsibilities of these actors, coordinating mechanisms and political culture, including different perceptions of risk (Renn 2008; Wilkinson 2013). The system is therefore characterised by a number of elements of interaction such as stakeholder participation in policies to reduce risk (Pelling 2011).
This paper is concerned with multiple levels of risk governance and (a) whether crisis leads to changes in the system; (b) the nature of the shift (key aspects of the system that are altered); and (c) the change process. This is assessed in the context of Montserrat in the British West Indies, where a long-duration volcanic crisis in the 1990s highlighted internal contradictions inherent in the broader system of governance. Other volcanic eruptions in the eastern Caribbean have resulted in greater loss of life than the 1995–1997 eruption of Soufrière Hills Volcano–most notably the 1902 eruption of Mont Pelée in Martinique, which killed 29,000 people (Tanguy 1994) – but the Montserrat volcanic crisis has attracted special interest from natural and social scientists alike because of the unpredictable and incremental escalation of volcanic activity, coupled with vulnerability and exposure characteristics found only on small islands.
A series of forced evacuations and delineation of risk zones in Montserrat avoided the mass casualties of Martinique, but on 25 June 1997, 19 people returning to the exclusion zone were killed by pyroclastic flows (see Figure
1
). Two months later pyroclastic flows engulfed the capital, Plymouth, putting an end to discussions on whether the port and other major facilities could be used for the foreseeable future. Before these tragic events the Government of Montserrat and the UK Government had been struggling to manage a crisis for which they were relatively unprepared and when rehabilitation and reconstruction began, they continued to face difficulties and public criticism.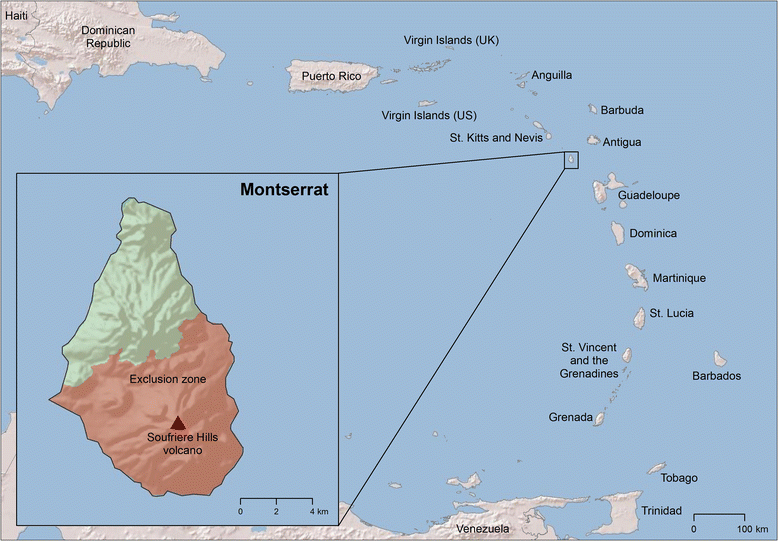 The purpose of this paper is not to provide a summary of events, or attempt to evaluate the effectiveness of collective responses to the volcanic crisis. Numerous reports and papers have been commissioned and written on the events and decisions taken by UK and Montserrat authorities, each presenting a view of what went wrong (see, for example, Clay et al. 1999; Donovan et al. 2012; Kokelaar 2002). More recently, studies have focussed on post-disaster reconstruction and the UK government's performance in promoting long-term development on the island (ICAI 2013; Sword-Daniels et al. 2013). Rather, the paper takes a longer term view of changes in disaster risk governance, analysing the critical shifts that occurred in response to an extreme event, as well as the change processes themselves (for a summary of key disaster risk governance events see Additional file 1).
Conceptual framework
Concepts of 'systems' and 'scale' are used to study the nature of changes in response to perturbations. These draw on the socio-economic systems, resilience and natural resource governance literature. 'Scale' is defined as the spatial, temporal, quantitative, or analytical dimensions used to measure and study any phenomenon (Gibson et al. 2000). This paper focusses on two scales: the jurisdictional scale, which can be divided into different bounded and organised political units, with linkages between them; and the temporal scale, which can be divided into different 'time frames' related to rates, durations, or frequencies (Ostrom et al. 1999). Effective disaster risk management (DRM) depends on the cooperation of international, national, regional and local institutions across temporal and jurisdictional and geographical scales, so understanding these interactions is critical.
Within the jurisdictional scale, the vertical power relationships between local and central political units are of particular interest. Building on work by Claudia Pahl-Wostl (
2009
) on multi-level learning processes and adaptation, two key aspects of vertical governance dialectics can be identified: (a) dispersion of decision-making authority and (b) vertical coherence.
(a)

The dispersion of decision-making authority refers to the authority of different centres of decision making that are formally independent of each other (Ostrom, 1997; McGinnis 2000; Heinelt 2002). Local governments are thought to require autonomy from higher levels of government so that they can define their own priorities and implement DRM measures without too much interference, and thus gain credibility and trust from their citizens; both of which have proven critical for disaster risk management (Wilkinson 2012). However, this kind of autonomous, inclusive style of governance is not the modus operandi of most local governments. This paper focusses on the political and fiscal autonomy of the Montserrat government to develop its own risk management policies, as well as its capacity to do so. It discusses the evolution of co-governance arrangements through which UK authorities and the Montserrat government jointly make decisions to manage exposure to volcanic risk.

(b)

Vertical coherence is concerned with the division of roles and responsibilities for risk management between different political units, from local government to tiers higher up the scale – including provincial governments (or states in federal systems of governance), national government and regional authorities like the European Union (EU). Incoherence in service delivery often occurs because of poorly defined and overlapping mandates (resulting in omission and/ or replication in service delivery), overly complex structures (Pahl-Wostl 2009), capacity constraints and unfunded mandates (Posner 1998), as well as centrist and paternalistic tendencies in public administration systems (Wilkinson 2012); all of which can constrain progress on managing disaster risk. Hence, an alignment of interests between governance scales can help to promote more effective DRM. This includes not only the participation of actors from one level in decision-making processes at another but also institutions and knowledge produced at one level influencing processes at another (Pahl-Wostl 2009).
Particularly critical for DRM is the alignment of risk perceptions across scales of governance through bi-directional process (Slovic 1987). Different people and cultures respond to disaster risk differently (Gaillard 2008; Heijmans 2001; Paton et al. 2001; Paton et al. 2010), and in the context of volcanic hazards, proximity to the hazard (Gregg et al. 2004), living memory of an eruption and level of impact (Paton et al. 2001) all shape risk perceptions amongst individuals and groups. Even if risk perception is high, people may still put concerns about convenience and living costs ahead of their desire to lessen their exposure (Gaillard 2008). This suggests that the idea of an acceptable level of risk is inappropriate. Rather, people do not accept risks but tolerate them to secure certain benefits (Pidgeon et al. 1992; Simmons and Walker 1999). The values underlying any notion of tolerable risk may not be shared by everyone; in fact much research on risk analysis and societal reactions to different threats highlights the differences between institutional responses such as regulation and public responses (Barnes 2002). In particular, disaster events can result in the creation of new official rules to control risk that minimise exposure - for example through the creation of exclusion zones and resettlement policies - but these values may not be shared by those that live in exposed areas and whom are to be resettled. Dialogue and negotiation between authorities and communities is therefore required to reach more sustainable solutions (Haynes et al. 2008).
The analysis of the disaster risk governance system in this paper draws heavily on resilience thinking, and in particular resilience frameworks that emphasise the capacity of a system to respond to shocks and stresses in different ways – such as by coping, adapting and transforming (Bené et al. 2012; Cutter et al. 2008; Pelling 2011). Disaster risk governance systems are highly sensitive to rates, durations and frequencies of disaster events and changes in the system often occur as a result of these events as well as in response to other external pressures. The feedback processes are however non-linear and unpredictable (Ramalingam et al. 2008).
Notwithstanding their idiosyncrasies, volcanic eruptions can be characterised in terms of their spatial and temporal dimensions: they are often slow onset and long duration event that allow for changes in policy and behaviour while the event is still unfolding. It is usually possible to identify sharp increases in the level of risk, resulting in crisis period(s) for affected populations and decision-makers. Hence volcanic disaster risk can be considered to have three temporal phases within which feedback processes occur, with accompanying options for institutional learning and collective action:
(i.)

Pre-crisis period, in which action may be taken to mitigate existing and anticipate future risk, such as land-use planning, retrofitting roofs, the development and enforcement of building codes, education and training programmes. Land-use planning is a prospective tool that can be used to prevent or limit construction in unsafe areas, while relocation and re-zoning of space is a corrective tool to reduce existing exposure to hazards. Education related to building practices that reduce ash entry into homes is a risk management activity that anticipates and reduces risk in the future, while training on early warning systems manages current levels of risk by encouraging evacuations and reducing loss of life.

(ii.)

Crisis period, which we can sub-divide into: a) start of the eruption and potentially long period of unrest (often characterised by seismic activity), which can be treated as a preparedness phase; and b) heightening of the crisis, usually initiated by an eruption, prompting emergency response activities to reduce negative impacts on people, such as food aid and shelter provision. These sub-phases vary widely across settings however and some volcanoes may do (a) and not (b), while some have (b) with no (a).

(iii.)

Post-crisis period, characterised by short- and longer-term recovery measures (the first of which may commence during the crisis period) to restore livelihoods and infrastructure as well as control future risk and promote sustainability (Alexander 2002; Tierney 2012). These corrective and prospective risk reduction measures are more likely to occur in the post-crisis period than before an event has occurred as disasters highlight previous failures and can act as catalysts for policy reform (Birkland 2006).
These three temporal phases may overlap if time between subsequent eruptions is short. Also, the shift from one state to another is not necessarily demarcated by the volcanic hazards themselves: there may still be low-impact hazards occurring in in the post-crisis period; and changes in the level of risk might also be caused by non-volcanic events that alter the level of exposure or vulnerability to different hazards. Nor do the phases identified above represent a cycle in the social system (from stability-to crisis-returning to a stable state). Indeed, the concept of a 'disaster cycle' has been heavily criticised by social scientists for representing disasters as temporary interruptions of a linear development process and governance systems, after which society returns to normal (Christoplos et al. 2001; Hewitt 1983; Twigg 2004). Governance systems do sometimes return to pre-crisis states, demonstrating the stability or persistence of institutions in the face of extreme social events (Schreyögg and Sydow 2010). However, more often in environmental and social systems, regime changes occur following significant perturbations, whereby the system moves to another stable state and sometimes this regime shift is irreversible (Whitten et al. 2012). Similarly, for disaster risk governance systems, we can expect disasters to alter components of the system, at least temporarily – whether perturbations are low-intensity but frequent or singular, high-intensity events. Changes in the disaster risk governance system during and following a protracted crisis can therefore be characterised in terms of their stability, from temporary alterations to permanent, irreversible shifts.
Another aspect of the change process is the extent to which the governance system is altered by the event – whether it undergoes fundamental changes or not. Levels of organisational change are described in the literature on adaptation and resilience, where differences are drawn between single and double-loop (and sometimes even triple-loop) learning; incremental and radical reform; transitions and transformations (Pelling 2011). According to Mark Pelling (2011: 74) transitions or incremental changes can be seen when 'the aims and practices of geographically or sectorally-bound activities push but do not overturn established political regimes', while transformation 'is an extreme case where profound change alters the distribution of rights and responsibilities and visions of development across society'. Similarly, while single-loop learning describes the detection of an error and correction without questioning the underlying values of the system, double-loop learning occurs 'when mismatches are corrected by first examining and altering the governing variables and then the actions' (Argyris 1999: 68).
The nature of disaster risk governance shifts and change processes described above can be summarised in a matrix (see Table
1
) and form the conceptual basis for analysing institutional change in Montserrat. The unique co-governance characteristics in Montserrat and other UK overseas territories present a number of challenges to studying institutional change of any sort. Institutions and individuals interact in ways that are very different to other governance settings
a
, making generalisations or lesson drawing about drivers of change particularly difficult. However, in focussing on the dynamics of vertical governance, direct comparisons can be made to governance arrangements in other contexts, including in federal governance systems such as Mexico and India, decentralised systems such as those found elsewhere in the Caribbean and other multi-layered systems of governance, such as the European Union. Conclusions are tentative and caution must be applied in making generalisations, but the Montserrat case is instructive of a more permanent co-governance transition that can occur following a volcanic crisis.
Table 1
Nature and processes of disaster risk governance change
Change in disaster risk governance system

Phases of volcanic risk

(i) Pre-crisis

(ii) During crisis

(iii) Post-crisis

Nature of change

(a) Dispersion of decision-making

(b) Vertical coherence

Change process

(a) Stability

(b) Extent
Methods
The analysis of vertical governance arrangements in Montserrat presented below is based on qualitative primary data collected through a 'forensic' workshopb held in September 2012 with 70 participants representing five stakeholder groups: scientists, UK government officials, Montserrat government officials (including disaster managers), regional agency staff and community representatives. The aim was to explore components of resilience during and after the volcanic crisis as well as internal and external factors that have undermined it. Moderated focus group discussions on key events, tipping points and phases of change were held and recorded. In addition, 16 semi-structured interviews were conducted with local and UK government officials and community leaders. Workshop and interview recordings were transcribed and coded and analysed using Atlas-ti software.
The coding categories were derived from the conceptual framework to capture data on: (i) risk management policies and key decisions taken during different time periods (before, during and after the crisis); (ii) roles and responsibilities of different actors for DRM activities; (iv) relationships between UK and local government authorities; and (v) public perceptions of government decisions on risk management policies (both UK and local). Interview and focus group data was also coded for issues of (vi) risk perception, (vii) trust and (viii) participation. Data was triangulated across the five stakeholder groups and with secondary literature, to help explain differences in judgements about decisions taken by local and UK authorities. Tensions arose as roles and responsibilities changed during and after the crisis and these are highlighted, as are the contrasting views of citizens and formal institutions on levels of tolerable risk.
It is important to point out that primary data was collected from the focus group discussions and interviews to supplement existing data and analysis of the Montserrat crisis and recovery processes. This explains the very limited number of interviews. While this has its limitations, the research team felt that governance during the crisis and its immediate aftermath had already been studied in depth, albeit from the perspective of science-policy interface (see, for example, Donovan et al. 2012; Donovan and Oppenheimer 2013). Further data was therefore collected to complement this and bring it up to date, situating the analysis of risk governance within broader decisions about development and the future of the island.
Discussion
The disaster risk governance regime in Montserrat has undergone a radical shift as a result of the volcanic crisis of 1995–1997 and alterations in central and local perceptions of volcanic risk. Essentially, a longer-term view of risk has been adopted by UK and local authorities, scientists and local communities, and this has brought with it substantial investments in safer locations further north and a belief that the future of the island is in the north. DRM in Montserrat is no longer concerned with the circumstances under which a return to south will be possible or how to make lives and livelihoods safer in former settlements. The longer term view of risk management being taken and new investments being made in safer locations further from the volcano, represents an important shift in the risk governance system (see Table
2
).
Table 2
Nature and processes of disaster risk governance in Montserrat
Change in disaster risk governance system

Phases of volcanic risk

Pre-crisis

During crisis

Post-crisis

Nature of change

(a) Dispersion of decision-making

(a) Little UK interference in development decisions.

(b) Scaling-up of UK intervention in response to weak local capacity.

(a) New co-governance regime with low levels of local autonomy.

(b) Vertical coherence

(b) Poorly articulated DRM policies and little coherence.

(b) Problems with policy coherence creating confusion over policy aims, lack of confidence in government and mistrust.

(b) Greater vertical coherence on DRM – e.g. linking up with other scales (regional and EU).

Change process

(a) Stability

(a) Temporary shift to high levels of external control (after Hurricane Hugo).

(a) Temporary shift to high levels of external control.

(a) Sustained shift to high levels of external control. Irreversible shift to greater vertical coherence.

(b) Extent

(b) Little change.

(b) Incremental change to vertical relations during crisis.

(b) Transformation in decision-making control. Incomplete transformation in vertical coherence.
A transformation towards greater vertical coherence has also taken place but is not complete, and there are signs that local and external-scientific assessments of volcanic risk in Montserrat are diverging. In particular, scientists and UK government officials have raised concerns about increasing settlement in areas close to the exclusion zone plus the low consideration given to ash fall in development planning (interviews, UK government officials and scientists, Montserrat, 2–4 October 2012). These comments and trends collectively suggest that the tolerable level of risk for local residents is higher in some cases than that established by UK and Montserratian authorities. Similarly, international development agencies have expressed concern that public awareness of hazards other than volcanoes needs to be improved. According to a review of disaster risk management capacity in Montserrat carried out by UNDP (2010), the focus of DRM activities is too often related to the Soufrière Hills volcano, with insufficient emphasis on a multi-hazard approach.
These local perceptions of risk and the cognitive processes through which risks are deemed insignificant or adequately controlled by individuals and groups need to be explored further and contrasted with external and scientific judgements. Calculations of tolerable risk are not static and the analysis presented above demonstrates how both new people coming into a volcanic area and the passing of time may change 'local' perceptions of risk. The Montserrat case does however suggest that transformational shifts in disaster risk governance can only occur when tolerable levels of risk are agreed on by stakeholders and this will require high levels of horizontal as well as vertical and coherence.
In analysing continuities and discontinuities in Montserrat's disaster risk governance system from the late 1980s to the present day, alterations in the governance system can be observed on two occasions: in the aftermath of Hurricane Hugo and during the volcanic crisis period. For both events, abrupt changes in levels of disaster risk and limited local capacity to respond led to greater external interference in local DRM decisions. Although Hurricane Hugo was a high impact event, the hazard subsided quickly and these alterations were temporary. The volcanic eruption, on the other hand, occurred over a long period of time and produced more permanent changes in the disaster risk governance regime and in the island's governance system more broadly. The sharp and sustained rise in the level of volcanic risk combined with a weak response from local and UK authorities led to a sustained reduction in local autonomy but also an increase in vertical coherence and when levels of risk declined and post-disaster recovery ended these new configurations did not return to their pre-crisis state.
This transformation may not prove to be irreversible, although there could be a latent 'tendency towards dependency' in Montserrat common to all UK overseas territories (Pattullo 2000; Skinner 2002). For critics of UK colonialism these territories 'will always struggle to develop and will always be dependent upon other places and people' (Skinner 2002: 316). One aspect of the shift in risk governance in particular that may be permanent is that of increased vertical coherence. Although local capacity to assess risk and implement risk reduction measures is still limited by lack of human and technical resources, Montserrat is now better integrated into a regional disaster risk governance system that can offer this support and advice. This is unlikely to change.
Conclusions
This research draws a number of conclusions about volcanic crises and regime change in Montserrat of relevance to multi-tiered governance regimes elsewhere and to different hazardous contexts. The examples of Hurricane Hugo and Soufrière Hills both suggest that crises brought about by sharp increases in the level of risk are likely to provoke temporary alterations in central-local relations, and in particular a sharp decline in local autonomy over DRM decisions. This intervention by external actors can have both negative and positive consequences for disaster risk management, creating dependency but also enhancing vertical coherence, offering opportunities for learning and capacity building.
The Montserrat experience is atypical however and caution should be exercised in drawing lessons for other contexts. In particular, the relationship between the UK and its overseas territories is unique and different even from French and Dutch overseas territories in the Caribbean. Central governments elsewhere may not be so inclined to provide ongoing financial support to local governments after the recovery process is considered to have ended. Similarly, local governments with significant levels of autonomy in decentralised and particularly federal systems of governance elsewhere are likely to reject sustained central government interference in local affairs following a protracted crisis. Governance reform in Montserrat was the product of conflict, but ultimately compromise, and in other contexts consensus between central and local authorities on tolerable levels of risk may be harder to achieve. Notwithstanding these caveats, however, the transition to co-governance and the re-framing of disaster risk that have taken place in Montserrat provide useful examples of how transformations can occur in disaster risk governance systems following high-intensity, long-duration volcanic events.
The experience of Montserrat also provides useful insights for volcanic islands elsewhere and small island states with disaster risks more generally. Small islands have few options for resettlement when significant parts of the territory are destroyed by a disaster, or when the decision is taken to move populations before a disaster to prevent loss of life. The benefits in terms of reducing disaster risk have to be weighed against loss of livelihoods for a significant proportion of the population, considerable social upheaval and often economic decline. Critical to the success and sustainability of these risk management decisions is the need for vertical coherence and dialogue between different scales of governance. In Montserrat this has been partly achieved through greater integration into the regional risk governance system and via the establishment of an economically dependent but politically autonomous system of co-governance with the UK. But unless communities are also engaged in risk governance decisions and consensus is built, this tacit agreement to pursue a low-volcanic-risk development model could come unstuck. Small islands with large risks can learn from the Montserrat experience. They can anticipate and plan for how these dialogues might take place in the event of a major disaster.
Endnotes
aFor a more detailed discussion of complex social relations and personal politics of small societies as well as the dependency mentality of overseas territories ad former colonies see Skinner (2002).
bThe Montserrat workshop was run by the STREVA programme as part of a 'forensic' research process, from 25-29th September 2012.
Abbreviations
CARICOM:

Caribbean Community and Common Market
CDB:

Caribbean Development Bank
CDEMA:

Caribbean Disaster Emergency Management Agency
CDERA:

Caribbean Disaster Emergency Response Agency
CDPPP:

Caribbean Disaster Preparedness and Prevention Project
DFID:

Department for International Development
DMCA:

Disaster Management Coordination Agency
DRM:

Disaster risk management
DTRS:

Dependent Territories Regional Secretariat
ECHO:

European Commission Humanitarian Office
EOC:

Emergency Operations Centre
EU:

European Union
FCO:

Foreign and Commonwealth Office
ODA:

Overseas Development Agency
MVO:

Montserrat Volcano Observatory
STREVA:

Strengthening Resilience in Volcanic Areas.
Declarations
Acknowledgements
The author would like to thank Edward Clay for early discussions on UK-Montserrat relations, Richie Robertson, Barbara Carby and Peter Simmons for providing comments and suggestions on how to improve this paper and to three anonymous reviews who provided useful comments. Research was conducted under the STREVA project, funded by the NERC/ESRC Increasing Resilience to Natural Hazards in Earthquake-prone & Volcanic Regions programme.
Authors' Affiliations
(1)
Overseas Development Institute, Climate and Environment Programme, London, UK
Copyright
© Wilkinson; licensee Springer. 2015
This is an Open Access article distributed under the terms of the Creative Commons Attribution License (http://creativecommons.org/licenses/by/4.0), which permits unrestricted use, distribution, and reproduction in any medium, provided the original work is properly credited.