Implications of legal scrutiny processes (including the L'Aquila trial and other recent court cases) for future volcanic risk governance
Journal of Applied Volcanology
Society and Volcanoes
2015
4:18
Received: 22 October 2014
Accepted: 19 June 2015
Published: 19 August 2015
Abstract
Discourse about the L'Aquila trial in Italy has overlooked the many different roles that laws play within risk governance. For volcanic risk governance, laws not only create the duty holders, beneficiaries and the relationships between them (the stakeholders) and the duties and rights (the stakes) but also dictate the acceptable standards of safety and wellbeing (the ultimate rewards).
Within any legal regime, certain court cases will attract a high public profile. They can serve a very helpful role by opening the black box of societal risk management so that robust and candid scrutiny of the past can lead to better management of the future. With such cases, the goal of the competent observer is to advance beyond debate about contested factual details of the past (the noise of what happened) and, by process of induction, to identify wider issues of principle and precedent upon which to make reasoned improvements (the signal to guide what should happen differently in the future and why).
The generic characteristics of law-based regulatory regimes are identified because they can be treated as 'constants' which do not change, or do so only very slowly over time. Accordingly, these aspects are highly relevant to long-term risk governance. More ephemeral case-specific factual issues often remain contested and, accordingly, receive less attention here. Significant recent court cases, including L'Aquila, are framed by process of deduction within a generalised legal infrastructure in order to identify the root causes of the apparent status quo of risk governance. This forensic approach is vital not only to identify the legal responsibilities of societal risk managers and the managerial risks that they face and their causes but also to consider possible mitigation strategies.
We identify the critical issue of managerial risk vulnerability related to 'standard equivocality' which is the absence of commonly recognised standards for hazard communications to risk decision makers. This absence may result from the lack of regulation of relevant practices and practitioners. We offer some recommendations to fuel debate not only within those science groups that reacted to the L'Aquila case but also the scientific community as a whole. Finally, we argue that checklists represent a rational and methodical way to develop acceptable practice standards focussed upon the difficult risk mitigation choices that are made by civil protection authorities and at-risk individuals.
Keywords
Volcanic hazardsL'AquilaHazard communicationRisk governanceLegal liability
Introduction
The discourse about the L'Aquila trial warrants careful reflection and addition. To some commentators the trial is "highly controversial" whilst to others it is better described as "so-called" (Alexander 2014a, Alexander 2014b; Cartlidge 2015; Fioritto 2014; Gabrielli and Di Bucci 2014; Lauta 2014a, 2014b; Notaro 2014; Simoncini 2014). To date, the discourse has generally been confined narrowly to a single criminal case isolated from its wider governance context. The predominant focus has been upon the trial process and the prosecutor's allegations about past practices. This paper refers to, and builds upon, recent initiatives to learn from the event. By framing the trial in a wider context, it is linked to the processes of societal and managerial risk governance for the purpose of enabling future risk managers to change their practices and avoid similar difficulties.
We describe the structural constants of a generalised legal infrastructure. Framed within that infrastructure, recent cases including L'Aquila are used to identify those parts of a social risk governance process that lead to managerial risks.
The L'Aquila case was the prime catalyst for our research and its role should not be misunderstood or overstated. Our focus is on the implications of legal processes that involve detailed analysis of the practices of scientists at work and not the disputed detail and merits of particular cases. In relation to L'Aquila, this paper therefore deliberately attempts to avoid all controversial issues regarding the characteristics of the Italian criminal justice system, the merits of and motivations behind the prosecution, the alleged roles and culpabilities of the defendants, the sentences and penalties imposed at trial, the outcome of the appeals and the initial reactions of many scientific communities.
No attempt is made to duplicate the institutional dimension considered by Scolobig et al. (2014) and the helpful distinction they make between framing emergency problems in terms of public safety rather than public control. In support of this distinction, it is worth noting that the stated aim of most, if not all, legal regimes regulating the risks of natural hazards is safety and not control. By way of illustration, in Japan, the Disaster Countermeasures Basic Act 1997 expressly states an objective of protecting the national territory, the life and limb of citizens and their property. In Indonesia, the stated aim of Disaster Management Law 24/2007 is providing protection for life and livelihood including protection against disasters in order to attain public welfare.
We describe how laws shape and support societal risk governance and analyse the material aspects of recent court cases. We argue that managerial risks, just like societal risks, must be assessed for the purpose of ascertaining what measures, if any, are required for their mitigation. It is our hope that this paper will assist managerial risk assessments by identifying: (1) duty holders (exposures); (2) societal risk non-compliance (vulnerabilities); and (3) risk mitigation strategies. Table
1
summarises a common approach to the governance of societal and managerial risks in the context of volcanic hazards.
Table 1
The variables of societal and managerial risks in relation to volcanic hazards
Societal risks

Managerial risks

Hazards

A wide range of scenarios including ash fall, lavaflows, lahars, earthquakes, pyroclastic flows etc. that represent volcanic hazards. Each societal hazard can be characterised by dynamic temporal, physical and spatial parameters.

The governance of the societal risks of volcanic hazards.

Managerial hazards have dynamic parameters related to active regulation/scrutiny:

• Temporal (frequency)

• Spatial (reach)

• Intensity (nature & degree)

Exposure

People and assets within the spatial boundaries ofthe hazard in question.

Entities and individuals who are duty holders in law in respect of the governance of societal risks.

Vulnerability

The susceptibility of the exposed people/assets to the physical characteristics of the volcanic hazardin question and the resulting consequences (i.e. death, injury or damage).

Any situation which represents a failure to fulfil a societal risk duty of care (a non-compliance) and the consequences of non-compliance including, but not limited to, 'naming-and-shaming', public scrutiny and criminal & civil law sanctions.
Laws provide the essential infrastructure of risk governance (the governance playing field), define the duty and rights holders and the relationships between them (the players, the positions and dimensions of the goals, and the rules of the game) and the empowered regulators (the referees with red and yellow cards).
The generic characteristics of law-backed regulatory regimes are identified because they can be treated as 'constants'. They are formal, persistent and predictable (Wilkinson
2013
) changing only slowly over time. Accordingly they are highly relevant to risk management, the paramount purpose of which is to manage the future. Case-specific factual issues, which are in effect past 'variables', receive less attention because: (1) often they are and will continue to be disputed and controversial; and (2) they are likely to represent an unreliable basis for the design and management of the future unless very similar facts are presented in the same jurisdiction. The roles, constants and variables, referred to above, are illustrated in a generalised legal infrastructure in Fig.
1
.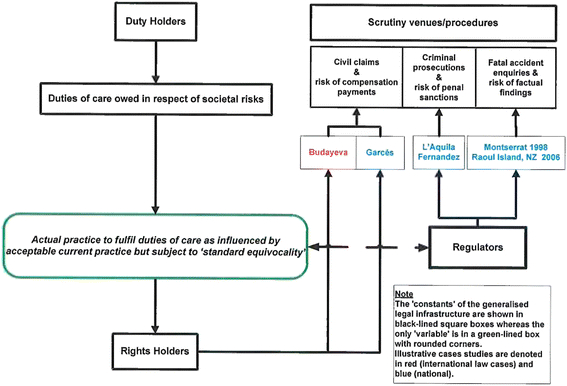 The facts of an individual court case are invariably interesting as they offer a snapshot of the past. However, they remain largely irrelevant to any forensic analysis of the legal scrutiny process itself and the subsequent identification and consideration of its constituent parts. Adopting a counterfactual approach, the facts, whether they are agreed or disputed, represent only one realisation of what could have happened (Woo 2010, 2011, 2015).
We adopt a working assumption that there is a perception in many scientific communities that, for a number of reasons, managerial risks are increasing. Social science discourses are used to discuss the possible consequences of these perceptions upon managerial risk behaviours, including those of "Getting Better" and "Getting Smarter", and to consider possible managerial risk mitigation options.
Discussion: Laws – What roles do they fulfil?
Conclusions
Previous sections have sought to explain, by reference to 'constants' and 'variables' within a generalised legal infrastructure, why further debate about the disputed factual detail of the L'Aquila trial is unnecessary in the context considered here. Readers are encouraged to take an active interest in national and international court cases involving natural hazards but advised to frame and consider them very carefully in a wider context of societal risk governance.
High profile court cases are very rarely reported in the mass media in either an accurate or a balanced fashion. Despite this truism, they can serve a very helpful role by opening the Black Box of societal risk management so that robust and candid scrutiny of the past can lead to better management of the future. The art of the competent and prudent observer is to rise above debated factual details of the past (what happened?) and to identify wider issues of principle and precedent upon which to make reasoned changes (what should happen in the future?).
Given the current rarity of past cases and resulting data, we suggest that richer reactive analyses may be achieved by adopting a counterfactual approach in order to construct alternative plausible versions of history including plausible near-misses scenarios. In relation to the facts of the index event in question and each identified counterfactual scenario, it may then be possible to answer the question "Why didn't this happen before?" This question can, of course, be asked not only in relation to the disaster but also the resulting legal processes. In this way, the management of the future can be founded on both factual (i.e. case-specific) and counterfactual histories (Woo 2010, 2011, 2015).
Recent cases have alerted managers of volcanic and other risks to the reality that they are not immune from robust accountability. By the nature of their vital roles, they are exposed. As a result of their current operational practices, they may also be vulnerable. Their roles, duties and working practices will be scrutinised and must be capable of detailed public explanation and justification.
We suggest that, in response to the challenges of more frequent and more intrusive scrutiny, scientific communities should concentrate on "Getting Better" at their essential contribution to societal risk mitigation and ensure that their services are relevant to and focussed upon the needs and expectations of risk decisions and their makers. This will ensure that future evidence-based scientific advice not only remains readily available when it is most needed (i.e. remains timely particularly during periods of emerging unrest) but also maintains its traditional hallmarks of rigour, excellence, objectivity, consistency, independence, balance and value-free neutrality.
A lasting and befitting legacy of the L'Aquila tragedy may be an emerging appreciation that much more can and should be done to identify, discuss and agree ways to develop 'acceptable' standards and better practices – in other word, ways of "Getting Better". Top of the action list is likely to remain outcome-focussed 'operational forecasting',31 the challenges of which include how to explain in a comprehensible way the spatial and physical parameters of the most common volcanic hazard scenarios, how to characterise their temporal parameters (i.e. how to offer forecasting of their onset and duration), and how to interact effectively with civil protection authorities and at-risk communities.
Abbreviations
AIPG:

American Institute of Professional Geologists
CGR:

La Commissione Nazionale per la Previsione e Prevenzione Dei Grandi Rischi
DPC:

Dipartmento della Protezione Civile
ECHR:

European Court of Human Rights
EConHR:

European Convention of Human Rights
EFG:

European Federation of Geologists
GNS:

Institute of Geological and Nuclear Sciences Limited, New Zealand
GSOL:

Geological Society of London
GVM:

Global Volcano Model network
IAVCEI:

International Association of Volcanology and Chemistry of the Earth's Interior
IFRC:

International Federation of Red Cross and Red Crescent Societies
IUGG:

International Union for Geodesy and Geophysics
UOB:

University of Bristol, United Kingdom
UN:

United Nations
VUELCO:

Volcanic Unrest in Europe
Latin America:

Phenomenology, eruption precursors, hazard forecast, and risk mitigation
WHO:

World Health Organisation
WOVO:

World Organisation of Volcano Observatories
Declarations
Acknowledgements
We are very grateful for critical feedback and constructive criticism from Professor Stephen Sparks, Dr Christopher Newhall, Dr Carina Fearnley and Anne Hunt. We also wish to thank two anonymous and one other reviewer for the time and care which they took in reviewing the original manuscript. Their candid input has greatly improved the content and format of the final version of this paper.
We also acknowledge very helpful and relevant contributions from Guido Giordano, Ray Cas, Carolyn l. Driedger, Lizzette A. Rodriguez Iglesias, Jan Lindsay, Christopher Newhall and John Pallister in relation to a related discussion paper currently being drafted for IAVCEI on checklists and guidance notes.
This research leading to this paper received funding from the European Union's Seventh Framework Programme (FP7/2007-2013) under grant agreement No. 282759 'VUELCO'.
The first author dedicates this paper to Mr Twig who died on 21 June 2015. He was greatly loved and will be much missed.
Open Access This article is distributed under the terms of the Creative Commons Attribution 4.0 International License (http://creativecommons.org/licenses/by/4.0/), which permits unrestricted use, distribution, and reproduction in any medium, provided you give appropriate credit to the original author(s) and the source, provide a link to the Creative Commons license, and indicate if changes were made.
Authors' Affiliations
(1)
School of Earth Sciences, University of Bristol, Bristol, UK
(2)
School of Sociology, Politics & International Studies, University of Bristol, Bristol, UK