Influence of volcanic tephra on photovoltaic (PV)-modules: an experimental study with application to the 2010 Eyjafjallajökull eruption, Iceland
Journal of Applied Volcanology
Society and Volcanoes
2016
5:2
Received: 20 March 2015
Accepted: 18 December 2015
Published: 11 January 2016
Abstract
Large volcanic eruptions may lead to significant tephra dispersion, crossing borders and affecting distant and industrial societies in various ways. While the effects of volcanic ash clouds on the aviation industry have been recognized, damaging effects on the photovoltaic energy sector are poorly investigated. Here we describe the influence of volcanic tephra deposition on photovoltaic (PV) modules that we experimentally analyzed and evaluated. A systematic set of experiments was conducted under controlled conditions using an artificial light source and measuring the electrical power generated from the PV-modules with the aim to determine the dependency of the amount of tephra covering a module and its subsequent loss in power production (measured in voltage and current) as well as the influence of the tephra grain size. We find that a mass of fine tephra has a stronger influence on the PV-modules power generation than the same mass of coarser particles. An application to the fine-grained 2010 Eyjafjallajökull eruption in Iceland and the resulting ash-cloud reveals that the power produced by PV-modules in continental Europe might have been affected significantly. Deposits were thick enough to cause complete failures of PV-modules up to a distance of about 300 km downwind. Although this distance is largely over the ocean in this particular case, our results imply that similar and larger eruptions of other volcanoes elsewhere might harm commercial or private energy production at distances of hundreds to thousands of kilometers from the volcano. Given that volcanic eruptions are frequent and the fact that the PV-industry is growing rapidly, negative impacts are expected in the future, requiring close tephra dispersion monitoring and PV-maintenance strategies.
Keywords
Volcanic tephraVolcanic ashPhotovoltaic modulesEyjafjallajökull tephraIceland eruptionVolcanic hazard
Background
Volcanic eruptions produce a number of proximal and distal hazards, acting on various time scales and with different reach. Proximal hazards such as lava-flows, rockfalls, landslides, pyroclastic flows and surges commonly affect the immediate surroundings of a volcano (few 10s of km). On the other hand, distal hazards can have far more long-range consequences. Specifically gas and tephra may cross oceans and borders to affect regions several hundred to thousand kilometers away (Tilling, 2005, Wilson et al., 2014) as vividly demonstrated by the 2010 Eyjafjallajökull eruption in Iceland (Gudmundsson et al., 2012). In 2010, the dispersion of fine grained tephra led to a number of problems across Europe, including aviation safety and the disruption of an entire industry sector (Gudmundsson et al., 2012). Tephra is known to damage and disrupt critical infrastructure associated with electricity, water, transportation, wastewater or communication networks and thus may result in significant economic losses (Wilson et al., 2014). General assessments of volcanic tephra fall impacts is a research field that is currently seeing an increase in attention and relevance. Recent studies have primarily focused on infrastructure vulnerability and related parameters (e.g. Jenkins et al., 2014, Oze et al., 2014), but also on more specific impacts of volcanic tephra on important electrical equipment such as high voltage power systems and even laptops exist (Wardman et al., 2012, Wardman et al., 2014, Wilson et al., 2012). However, these previous studies did not consider the photovoltaic sector in detail, despite the high exposure to tephra fall.
Here we study the effects of tephra fall on the power generation of photovoltaic modules. We use laboratory simulations and tephra with different grain sizes to systematically investigate the effects on voltage and current. Furthermore, we discuss the broader implications for PV-modules at scientific monitoring networks surrounding volcanoes as the distant effects and losses at large scale photovoltaic facilities contribute to the renewable energy sector, and related maintenance needs.
We demonstrate in this paper that the vulnerability of the renewable energy sector needs to be considered, especially those markets relying on the rapidly growing solar power industry, which could potentially be affected by tephra dispersion. Because empirical data is limited and is only briefly described for Eyjafjallajökull (Schlosser et al., 2011) and elsewhere (Ota et al., 2012), we evaluate the possible influence of volcanic tephra fall on PV-modules based on systematic laboratory experiments to simulate grain size and concentration-dependent reduction in power generation.
Eyjafjallajökull tephra dispersion over Europe
The eruption of the Eyjafjallajökull volcano in Iceland lasted from April 14th to May 22nd, 2010 and displayed not only the far-reaching effects of a volcanic eruption, but also the cascading effects on society and industry.
The eruption had a total erupted material of 4.8 ± 1.2 · 10
11
kg with a dense rock equivalent volume of 0.18 ± 0.05 km
3
(Gudmundsson et al.,
2012
). About 80 % of the erupted material was tephra, half of which fell on Iceland and the other half was transported by strong northerly and westerly winds across the ocean towards the UK and continental Europe (Gudmundsson et al.,
2012
). The directions and isolines of the estimated tephra deposit thickness are illustrated in Fig.
1
. Only 0.2 % of the estimated amount of erupted tephra reached Europe (Gudmundsson et al.,
2012
). For six days (15th to 21st April) civil, industrial and military aviation in Europe was disrupted as a result of the tephra dispersion, with approx. 100,000 canceled flights (O'Regan,
2011
). Although difficult to estimate, the economic loss of about 4.7 billion USD in GDP (Oxford Economics,
2010
) was unprecedented, even though the ash concentration over Europe was low (32 g/m
2
max.) (Devenish et al.,
2012
). This caused a near complete civil, industrial and military aviation shut down for several days as well as long-lasting political decisions thereafter (O'Regan,
2011
). With a VEI (Volcanic Explosivity Index) of 3–4, the eruption was of moderate size (Gudmundsson et al.,
2012
), but considering that much larger volcano eruptions might occur in Iceland and recurrence intervals of VEI 3–4 eruptions are on the order of less than 5 years (Siebert et al.,
2011
), it can be inferred that in the future similar or larger volcanic eruptions could produce tephra that will affect Europe.

PV-modules and effects of dust and volcanic tephra
To convert the solar radiation into electricity, a (PV)-module's technology is based on the photoelectric effect (Backus et al., 1990, Saga, 2010): a layer of silicon acts as a semiconductor to collect electrons produced by the impact of a photon, and to gain an electric current. The crystal-structure of the silicon can be monocrystalline, polycrystalline or amorphic, which have different energy conversion efficiencies (Razykov et al., 2011). PV-modules are increasingly used for power generation in remote stations and buildings, water pumping, home systems, global communications, unmanned and remotely operating robotics and space vehicles and for megawatt-scale power plants (Razykov et al., 2011). In 2008, the total global revenue for the photovoltaic industry was 37 billion USD. The market is rapidly growing at an annual rate of >40 %, globally exceeding 10 GW in 2009 (Razykov et al., 2011).
Most of the PV-energy is produced in Europe, Japan, the United States and especially China. Germany and Spain alone contributed almost 75 % of the gross European production of 2 GW between 2008 and 2009 (Razykov et al., 2011). So far, a decrease in PV-power generation caused by volcanic tephra has not been investigated systematically, although it was shown that tephra coverage could impact this energy sector (Ota et al., 2012).
Previous work (e.g. Sulaiman et al., 2011, Rajput and Sudhakar, 2013) utilized laboratory experiments in order to quantify the drop in power-output of PV-modules as a result of artificial or natural dust contaminants. We use these studies to guide our work, the design of our experimental simulations, the power source, recording units and interpretation. Experimental simulations have been proven to be highly illustrative, where different layers of artificial dust could be investigated under controlled conditions (Beattie et al., 2012, Goossens et al., 1993, Jiang et al., 2011, Kaldellis and Kapsali, 2011).
Dust effectively reduces incoming radiation, and also changes the effects on the radiations angle of incidence (Zorrilla-Casanova et al., 2013). In addition, the operating temperature, rainfall and solar irradiation affect the PV-efficiency, as experimentally and empirically determined (Kumar et al., 2013). Pollution through dust is found to be dependent on rainfall (Zorrilla-Casanova et al., 2013). The initial settling of dust, and possibly also fine ash, promotes the accumulation of more dust, which is why PV-systems in arid climates can experience heavy losses in their power production during dry periods (Kumar et al., 2013). Experimental simulations showed that the reduction of the transmittance of the glass cover decreases, and also depends on orientation and tilt-angle of the PV-module, as well as the dust deposition density and the prevailing wind direction (Elminir et al., 2006). Dust therefore not only reduces the incoming radiation, but also affects the incidence thereof, called soiling (Zorrilla-Casanova et al., 2013). Besides coverage, dust can produce a permanent loss through scratching of the glass surface of the modules (Ju and Fu, 2011). This so-called fouling coefficient is used as an evaluation index for assessing the impact of dust on PV-power generators. Naturally, this effect of dust is strongly site dependent. Detailed studies were done for dust accumulation experiments in the Sahara (Mohamed and Hasan, 2012) or in the Sahelian environment (Ndiaye et al., 2013) and elsewhere where aeolian dust is a common problem for PV-modules (Appels et al., 2012, Sorloaica-Hickman et al., 2012). In order to maintain the full performance, regular maintenance and cleaning of the modules is necessary on a daily to weekly basis, dependent on these environmental factors.
Experimental setups commonly used PV-modules with either a natural light or with a constant-power light source (Beattie et al., 2012, Cabanillas and Munguía, 2011, Goossens et al., 1993, Jiang et al., 2011, Kaldellis and Kapsali, 2011). Different conditions of dust accumulation could be simulated, reducing the systems efficiency by 50 % or more. In addition, it was noted that the smaller particle-size of the dust grains might have decreased the power of the modules by a greater amount than larger particles (Sulaiman et al., 2011). Similarly other studies on representative air pollutants (red soil, limestone and carbonaceous fly-ash), and moss (Sulaiman et al., 2014), show that the type and scale of the pollutant specifically affects the energy performance of the PV-modules (Kaldellis and Kapsali, 2011).
These important findings are likely to be just as relevant for volcanic pollutants. The impacts of volcanic tephra on PV-modules have not yet been studied extensively and so far no studies considered the broad range of tephra particle sizes common in volcanic eruptions which ranges from bombs and lapilli to coarse and fine ash, potentially covering PV-modules in dependence to the distance and magnitude of the eruption.
A recent study in Japan showed the significant effect of volcanic products affecting PV-field installations at ~50 km distance (Ota et al., 2012). In Europe, the effects of the ash plume on the PV-sector were hypothesized to reach as far as Vienna, over 2700 km away from Eyjafjallajökull (Schlosser et al., 2011). Here we add details on these earlier studies by considering a range of tephra particle sizes and concentrations under laboratory conditions. After detailing the samples used, the following section provides the details on the experimental set up designed to simulate and study the accumulation of volcanic tephra on PV-modules, considering different tephra grain sizes and quantities. We then apply these new findings to the 2010 Eyjafjallajökull tephra dispersion and develop a hypothetical assessment of the PV-module failures that can be expected from a similar VEI 3–4 eruption on land. Important implications arise for other and especially larger eruptions (VEI 5 or larger), which are briefly described in the discussion section of this paper.
Methods
Volcanic eruptions commonly produce tephra with a wide variety of grain sizes. The general classification of volcanic tephra by grain size (Le Bas and Streckeisen, 1991) distinguishes fine ash (<1/16 mm), coarse ash (1/16 mm to 2 mm), lapilli (2 mm to 64 mm) and volcanic bombs (>64 mm). These grain sizes are not found in aeolian and dust effect studies, as they are specific to volcanic tephra fall hazards, however they can impact PV-power generation with eruptions anywhere in the world. To test the effects of these different particle sizes on PV-modules, we collected tephra samples from the 2010 Eyjafjallajökull eruption.
At volcanoes, the sorting gets finer and better the further the tephra is transported from the volcano (Tilling, 2005). However, during the course of an eruption there can be a large variation of the grain sizes with time and distance as the eruption dynamics might change. The following samples and experiments are selected to evaluate and quantify the influence of volcanic tephra on the PV-modules with the example of the Eyjafjallajökull tephra and the main focus on the grain size distribution.
Sampling method and location
The Eyjafjallajökull volcano is located in the south of Iceland near the coast. It lies beneath a glacier of the same name a few kilometers west of the neighboring Myrdalsjökull. In order to get tephra samples to work with, loose tephra was collected directly after the 2010 eruption and again in 2013 in a valley south of the Eyjafjallajökull, which was approximately seven kilometers from the crater (see Fig. 1c). This location was chosen in consideration of previous studies on the tephra dispersion (Gudmundsson et al., 2012). A map showing the distribution of the tephra is provided in Fig. 1. It shows that the wind conditions at the time of deposition led to a strong southward deposition of the tephra.
The first set of samples used in our experiments were collected shortly after the eruption in 2010. These tephra samples belong to the eruption period April 18–20, 2010 (M. T. Gudmundsson, pers. commun., 2013) and were investigated in detail before (Gudmundsson et al., 2012). We also collected a second set of samples in 2013. Although the tephra was not fresh, it provides a solid base for analyzing the effect of different grain sizes on PV-modules. Due to remobilization of the 2013 samples, we found a very good sorting in the range of coarse ash. In addition we could use fine ash and lapilli, which were the easiest to sort out of the 2010 samples. As a result, three grain sizes could be used for the experiments: fine ash, coarse ash and lapilli.
Sample description
Each sample was examined for its appearance and for its physical and chemical properties using scanning electron microscopy (SEM) (Zorn, 2014).
The fine ash has a trachybasaltic composition (Gudmundsson et al.,
2012
) and dark gray color. It is poorly sorted, angular, and has grain sizes ranging from very fine to fine (<60 μm, Fig.
2a
). Coarse clasts are rare, but present. The sample is largely aphyric, no minerals are distinguishable. When thrown into the air, the finest particles can remain suspended in the air for several seconds before settling on the ground.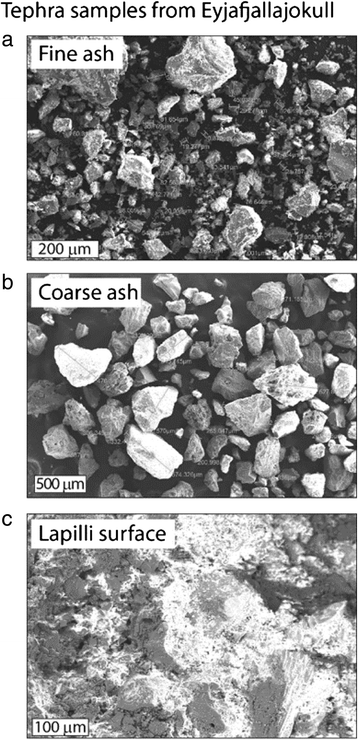 The coarse ash (Fig. 2b) has a very dark gray to black color and has grain sizes mostly between 200–600 μm. As in the previous sample, the clasts are very angular and have a high sphericity. On the surface of many clasts, tiny bubbles can be observed reminiscent of a pumiceous structure. On larger clasts it is also possible to recognize idiomorphic plagioclase-crystals.
The lapilli sample (Fig. 2c), is also trachybasaltic in composition (Gudmundsson et al., 2012) and has a dark gray color. It is very well sorted with an average grain size of 1.48 cm. The clasts are well rounded, brittle and produce fine ash on collision or when falling. As the clasts are very large, the SEM only shows the surface texture. Figure 2c therefore shows a part of a single clast only.
Experimental setup
The experiments to measure the effect of tephra on PV-modules were set-up according to previous dust-effect studies (Kumar et al.,
2013
, Sulaiman et al.,
2011
). We repeated each experiment for two different PV-modules, placed horizontally; in total we ran over 140 simulations. Artificial light was produced by two warm white 400 W flood lights, providing 8545 lumen each as well as a broad-beamed and high-intensity illumination that was positioned vertically 0.8 m above the PV-module as illustrated in Fig.
3
. We repeated each experiment with different modules, here results for module 1 and module 2 are described. The technical data for the two modules is provided in Table
1
.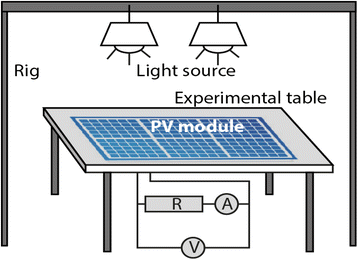 Table 1
Module Specifications
| | Module 1 | Module 2 |
| --- | --- | --- |
| Model | SM 30/36 | ET-M53610 |
| Technology | Monocrystalline | Monocrystalline |
| Dimensions | 675 x 345 x 20 mm | 383 x 299 x 35 mm |
| Number of cells | 36 | 36 |
| Weight | 2.7 kg | 1.7 kg |
| Power | 30 W | 10 W |
| Nominal voltage | 17.3 V | 17.82 V |
| Nominal current | 1.74 A | 0.57 A |
| Open-loop voltage | 20.8 V | 21.96 V |
| Shortcircuit current | 1.93 A | 0.63 A |
The resistor used in the experiment was an aluminium-housed resistor from Arcol, with specified technical features (resistance 6.8 Ω, connection type axial, power 100 W, coil winding technology, temperature coefficient ± 100 ppm/°C, temperature coefficient max. -100 ppm/°C, tolerance ± 5 %). In addition to the technical data, the I-V-characteristics and the working point (Quaschning and Hanitsch, 1996) of the modules at the standard testing conditions of 1000 W/m2 insulation and 25 °C temperature are provided in Additional file 1.
To protect the PV-module from pollution, fouling and other irreproducible results, a transparent thin PVC plate was placed on top of the module. This setup facilitated deposition of tephra and cleaning of the modules, and was similarly applied earlier (Sulaiman et al.,
2011
). The dried tephra samples were then dispersed onto the modules by letting the tephra rain down from above. This was done by hand and by shaking the PVC plate to keep the distribution of the tephra as homogenous as possible (Fig.
4
). We also repeated the experiments multiple times, successfully testing and ensuring the reproducibility of the results. The effect of heterogeneous dispersion, or clustering (Beattie et al.,
2012
) was not investigated further. Output voltage and current were measured and graphed as they were also used in previous studies (Sulaiman et al.,
2011
) and allow the calculation of the power generated by the PV-module. This was done using the electrical power equation P = V · I (Quaschning,
2010
). After the measurement, the tephra was swept in a box from a known area and weighed. We repeated this process several times with increasing tephra mass until we could determine and verify a clear dependency between the tephra mass and the loss in power of the PV-modules.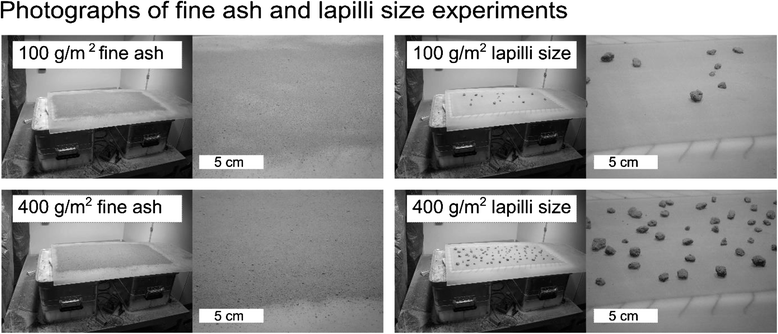 Earlier studies showed that the power generation of PV-modules is influenced by their temperature (Skoplaki and Palyvos, 2009). Therefore, artifacts arising from unstable experimental temperature conditions were minimized by performing the experiments in an insulated bunker building. Temperature effects due to the artificial light sources were determined in benchmark experiments, as detailed in the following section.
Results
The results of the experiments are presented in three sets. Firstly, benchmark experiments provide an understanding of the general behavior of the modules. Secondly, systematic laboratory experiments are described where the grain size effects are studied generically. Lastly, the Eyjafjallajökull eruption is applied to the previous results and very fine ash dispersion and deposition effects on PV-modules are presented in the context of the case study.
Benchmark experiments
To investigate the heating effect of the artificial lights on the modules, both voltage and current were measured after switching the lights on. Results confirmed that the current is largely unaffected by heating artifacts, whereas the voltage shows a temperature effect in the first ~30 min of the experimental run. We displayed our measurements in Additional file 2. Based on these results, we determined that for the chosen experimental set up, before starting the actual measurements, these modules had to heat up for at least 45 min in order to produce a constant voltage and hence reproducible result. This warm-up time is a known effect (Skoplaki and Palyvos, 2009) and was considered in all later experiments.
The second benchmark experiment was used to determine the decrease of power-output depending on the covered area of the module. For this purpose, the module was simply covered in part by cardboard, in order to confirm the expected linear dependency between covered area and voltage, which to some degree is expected similarly for falling particles (Jiang et al., 2011). Based on this we assume the mass per area of deposited ash would be equivalent to the covered area, whereas for the current, the relation was found to be non-linear (Jiang et al., 2011). These tests will be used for a comparison in the tephra experiments described below and are presented in Additional file 3.
Systematic experiments on tephra deposit parameters
Before the measurements, the module was cleaned and thermally equilibrated. Immediately after adding tephra, the measurements depict a rapid decrease of power. From multiple experiments with differing tephra mass, we then find a linear and exponential trend for the voltage (
V
) and current (
I
), respectively, as shown in Fig.
5
. This effect was tested for two modules and both show similar trends, serving as a validation for the general concept regardless of the module specifications. The voltage decreases linearly until a coverage of about 400 g/m
2
of fine ash and 1500 g/m
2
of coarse ash was reached. The current on the other hand displays a steep logarithmically decreasing trend. Therefore the amount of ash deposited plays an important role for the power loss of a PV-module, regardless which module was used.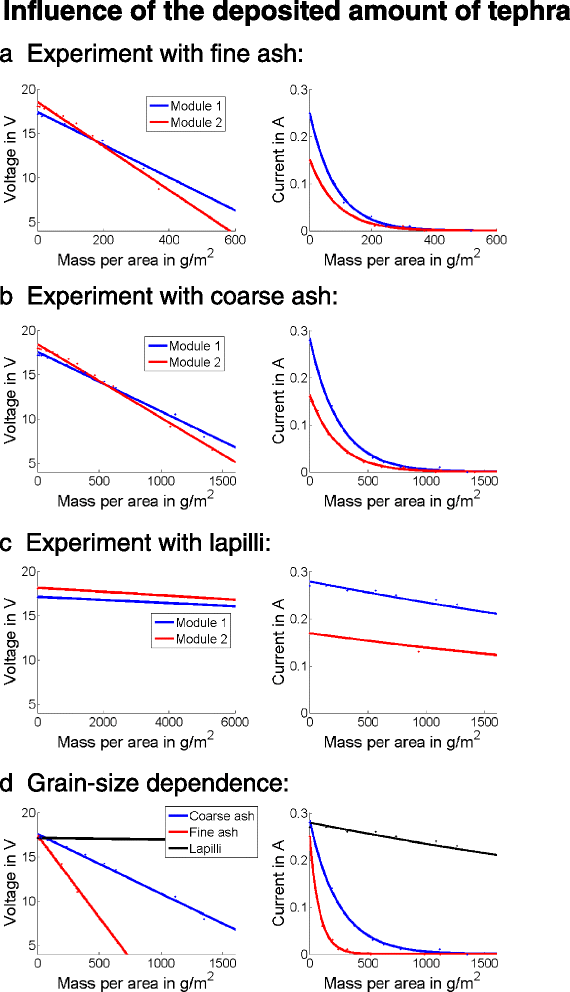 The experiments concerning the influence of different tephra grain sizes deposited on the modules all show a clear decreasing trend with increasing deposited mass (Fig. 5). For a given mass, voltage graphs show a steep decrease for accumulating fine ash, a moderate decrease for coarse ash and a gentle decrease for lapilli size tephra. In general we find that the power PV-modules produce decreases much faster with fine ash than with coarse ash.
The same pattern applies for the current graphs. They show a steeper decrease for fine ash, a moderate decrease for coarse ash and a very gentle near linear decrease for lapilli size tephra. Therefore, the finer the ash is, the less material is needed to significantly reduce the power of a PV-module (Fig. 5d).
Application on Iceland-type eruptions
To assess the impact of an Iceland-type-eruption on PV-modules, the data from the experiments are compared to the data available from the distribution of the ash cloud during the 2010 Eyjafjallajökull eruption. For a comparison of the experimental results to the Eyjafjallajökull eruption, empirical observations and tephra models for the eruption are considered for the near field (Gudmundsson et al.,
2012
) and far field (Devenish et al.,
2012
, Folch et al.,
2012
, Ripepe et al.,
2013
), summarized in Fig.
6
.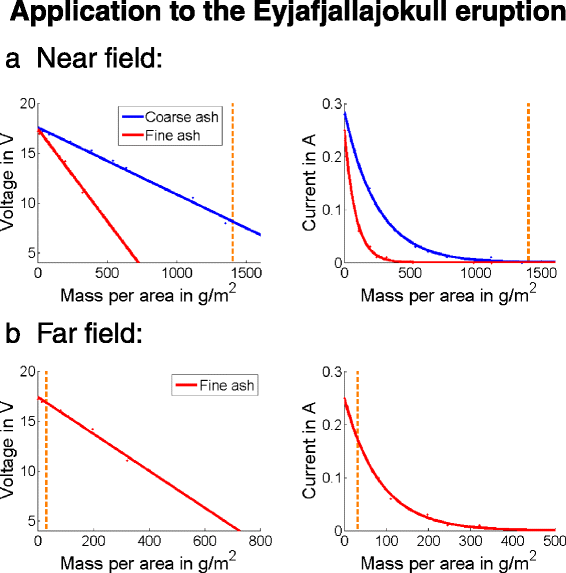 From our experiments we find that a complete failure of the PV-modules would have occurred if tephra fall would have accumulated coarse ash >1.6 kg/m2, or if fine ash would have exceeded 0.8 kg/m2 (Fig. 5). During the 2010 eruption these values were indeed approached by a thin layer of ash only <1 mm thick, assuming a mean tephra density of 1400 kg/m3 as determined in an independent study (Gudmundsson et al., 2012), which means ash deposition exceeding 1 mm would already cause a complete failure. A comparison to the tephra dispersion isopach maps shows that close to the volcano these values were exceeded by far. This 1 mm isopach extends as far as ~300 km downwind from the vent, therefore PV-modules located at this distance or closer would have experienced a complete failure. Even at much larger distance a significant loss in power is expected.
In the far field (UK and continental Europe), the effects of the fine Eyjafjallajökull ash deposited on PV-modules can be inferred by considering previous work on the far field distribution of the ash cloud over Europe. The atmospheric ash concentration between the 14th and 17th of April is assumed to be up to 20–32 g/m
2
(Devenish et al.,
2012
, Folch et al.,
2012
). Only fine ash can travel far enough for a far field application and therefore only fine ash is considered for this particular scenario. Assuming the deposition of a maximum value (32 g/m
2
), fine ash reduces the voltage (
V
) by <8 % and the current (
I
) by 20–30 % (Table
2
). Applying the electrical power equation, we estimate the decrease of the PV-module output power is about 30–35 % (Table
2
).
Table 2
Estimated power decrease for Europe
| | Module 1 | Module 2 |
| --- | --- | --- |
| Vclear | 17.41 V | 18.52 V |
| Vash | 16.81 V | 17.73 V |
| Δ V | 0.60 V ≈ 3.5 % | 0.79 V ≈ 4.3 % |
| Iclear | 0.25 A | 0.15 A |
| Iash | 0.17 A | 0.11 A |
| Δ I | 0.08 A ≈ 32 % | 0.04 A ≈ 27 % |
| Pclear | 4.35 W | 2.78 W |
| Pash | 2.86 W | 1.95 W |
| Δ P | 1.49 W ≈ 34.3 % | 0.83 W ≈ 29.9 % |
Our estimates of reduced power for PV-modules with ash concentrations are comparable to airborne dust settling scenarios tested and based on empirical data, where significant losses are described (Appels et al., 2012, Beattie et al., 2012, Jiang et al., 2011). These far reaching effects are commonly not considered by the renewable energy production industry and may increase their hazard exposure. Our experimental results suggest that the loss of power from every PV-module in the affected area from the 14th to 17th of April 2010 caused by the volcanic ash cloud over Europe may have been significant, however empirical data has yet to be investigated.
Discussion
The photovoltaic industry is one of the fastest growing industries in the renewable energy sector, increasing by approximately 40 % annually and reaching tens of gigawatts' production globally (Razykov et al., 2011). PV-modules are increasingly used as a power source for remote stations and buildings, water pumping, home systems, global communications, unmanned and remotely operating robotics and space vehicles as well as for megawatt-scale power plants (Parida et al., 2011). The effect of dust on photovoltaic modules is well studied both empirically and experimentally and could show that amount of dust and type of dust strongly affect the power generation of the modules (Kumar et al., 2013). Dust in the atmosphere is known to settle and affect PV-modules, where small masses of a few tens of grams lead to an PV-power reduction on the order of 10 or even 20 percent (Appels et al., 2012, Beattie et al., 2012, Eldin et al., 2013, Jiang et al., 2011). The effect of volcanic eruptions, especially the different grain size contributions of tephra, however, remained to be studied yet. Our work shows that volcanic eruptions at distances of over 2000 km may, within a very short time, have an effect that is comparable to atmosphere dust deposition. As we tested, volcanic tephra deposition may have local, regional or continental consequences on PV-modules, and therefore a proper understanding of these hazards is highly relevant, specifically for the renewable energy sector.
Our experimental analysis shows how the power-output of a PV-module will rapidly decrease when it is covered by volcanic tephra from an eruption as an increasing mass of deposited tephra prevents incoming light from reaching the module. The particle size of the tephra also plays an important role, rather than just the pure mass. As finer tephra particles are much smaller, they pack more densely. Thus, finer material blocks incoming light more effectively with less material.
Larger, more explosive and voluminous eruptions, especially in association with water (phreatomagmatic eruptions), produce a greater amount of fine ash, which can be transported by wind over long distances. This would mean the ash would not only affect geophysical instruments powered by PV-modules in the near field of the volcano, but also industrial and private instruments in the mid and far field. Nowadays investigation into this matter has become especially important as the dependency to PV-modules is widespread and covering not only scientific devices in the field but also industry sectors of various branches. Before discussing the implications of this work, we critically assess the limitations of the data, approaches and assumptions made in here.
Conclusion
We conducted experiments to explore the influence of volcanic tephra deposition on the power generation of PV-modules. Our experiments shows that even minor loads of volcanic tephra deposited on a PV-module can severely decrease their performance. We showed that with an increasing tephra load, voltage decreases linearly whereas current displays an exponentially decreasing trend. We also found a strong grain size dependency, with finer particles causing a much more drastic decrease as coarser particles with the same tephra load.
We applied our results to the 2010 Eyjafjallajökull eruption and found that the eruption had the capability to cause a complete failure of all PV-modules within 300 km downwind from the volcano and to reduce the electrical power generated by PV-modules in Europe by up to 30 % (although this value is likely an overestimate). The prolonged and constant generation of volcanic tephra, especially in fine grain size ranges, the suspension characteristics of the ash as well the southeastern wind conditions at the time were the main controlling factors governing the spread of the ash cloud and resulting in such widespread effects.
With respect to the frequency of similar eruptions it is very likely that volcanic tephra will cause problems for electric power generated by PV-modules in the future. Also, considering the rapidly growing photovoltaic industry and the importance of PV-modules for scientific purposes and volcano monitoring, these issues may be of increasing significance. Our study is the first to detail a simple approach to assess the effects of volcanic tephra on PV-modules that, although very basic, is applicable to all explosive volcanic eruptions around the globe. More accurate assessments, especially regarding the impacts on volcanic tephra on PV-modules, are required and we highly encourage further and more detailed research into these issues.
Declarations
Acknowledgements
This paper benefited greatly from very constructive reviewers.
Prof. Magnús Tumi Guðmundsson and Prof. Ármann Höskuldsson for friendly communication and the shipping of the fresh set of tephra-samples. Prof. Rutger Schlatmann for the short term acceptance for revision and grading of the thesis this study is based on as well as his instructions on the functional principles of PV-modules and the providing of materials for research. Nicole Richter, Michele Pantaleo, Mehdi Nikkhoo for assistance and feedback regarding content and presentation of the material. Tanja Witt for helpful and friendly tips, experiences and suggestions concerning the writing of this study and finally Joanna Gaset and Marcus Trimble for proofreading the manuscript. Financial support was provided by the FUTUREVOLC project (No 308377) and the GFZ Potsdam.
Open AccessThis article is distributed under the terms of the Creative Commons Attribution 4.0 International License (http://creativecommons.org/licenses/by/4.0/), which permits unrestricted use, distribution, and reproduction in any medium, provided you give appropriate credit to the original author(s) and the source, provide a link to the Creative Commons license, and indicate if changes were made.
Authors' Affiliations
(1)
Physics of Earthquakes and Volcanoes, GFZ German Research Centre for Geosciences, Potsdam, Germany
(2)
University of Potsdam, Institute of Earth and Environmental Sciences, Potsdam, Germany