Newspaper reporting of the April 2007 eruption of Piton de la Fournaise, part 2: framing the hazard
Journal of Applied Volcanology
Society and Volcanoes
2018
7:3
Received: 29 November 2017
Accepted: 10 April 2018
Published: 31 May 2018
Abstract
An analysis of the front pages of 120 consecutive editions of the local newspaper for the island of La Réunion (France), "Le Journal de L'Ile de La Réunion", published before, during and after the April 2007 eruption of Piton de la Fournaise reveals that its front page is an ideal vehicle for maximizing information delivery and recall during a volcanic eruption. Supported by flash tests, and by cross-checking with a content analysis of information given within the newspaper, we find that the front page is an effective gauge for the hazard frame which, for the case examined here, involved six volcanic hazards (pit-crater collapse, lava flows, gas, air fall, ocean entry lava flow and bench collapse), as well as the issue of evacuation. We found that crater collapse and lava flow hazards were framed using their natural colors and clear imagery of the phenomenon, tied to context-setting explanations within the newspaper. However, for lava flows in particular there was an element of spectacle and promotion of sightseeing, with photographs always featuring sightseers invariably taking photographs. After the end of the eruption reporting became almost entirely focused on tourists and sightseeing. Gas and ash fall hazard were framed using images and words of the victims, so that it became worrying and frightening, and associated with panic. As a result, the volcano itself became portrayed as a monster, and the situation for the impacted population became "apocalyptic" and "hellish". This probably contributed to the evacuation measures being described as confused and pointless, with the morale of the impacted population suffering accordingly. The ocean entry and bench collapse had no frame at all, and became associated with the dead, exotic fish that were collected; this hazard thus being framed as an interesting curiosity rather than a volcanic hazard. The front page-tracking model followed here could guide future educative measures during volcanic crises by quickly identifying, on the basis of front page analysis, hazards that are appropriately conveyed versus those that are poorly portrayed. Responses to rectify a poor frame can include reactive scientific advertising, a route that is used commonly by businesses seeking to boost sales by taking timely advantage of a developing newspaper frame, and distribution of appropriately designed and timed press releases.
Keywords
The pressFront-pageImagesHeadlinesShort-term memoryHazard-communicationVolcanic eruption
Introduction
Through whatever mass media avenue news is received by a reader, viewer or listener the message will have been shaped by the communication route that the information has taken between the source and the receiver (e.g., Rosten
1937
; Cater
1959
; Cohen
1963
). Following the social amplification of risk framework, the mass media plays a pivotal role as a "station" for relaying "signals" which construct public representations of risk (Kasperson et al.
1988
). The mass media thus becomes an agent through which society learns about risks, hazards and environmental disasters (Kasperson and Kasperson
1996
). In this sense, the newspaper is one mass media outlet that can act as a filter that sits at the center of a communication system and operates to shape the perception of a hazard amongst the readership. Through placement, selection (of story, data and source), exaggeration, omission and preference the newspaper places bias, slant and spin into the information received (Harris
2015a
) thereby setting an agenda (McCombs
2014
) and framing the news (Reese et al.
2010
). McCombs (
2014
) argued, for example, that newspapers,
"communicate a host of cues about the relative salience of the topics on their daily agenda. The lead story on page 1, front page versus inside page, the size of the headline, and even the length of the story all communicate the salience of topics."
These cues are laid out as part of the newspaper design and will influence what the readership thinks about and how they think about it (McCombs and Shaw
1972
; Vu et al.
2014
). Cohen (
1963
), for example, concluded that in providing such cues the press,
"may not be successful much of the time in telling its readers what to think, but is stunningly successful in telling its readers what to think about."
The public can then use such cues to organize their own agendas and to decide which topics are important (McCombs
2014
). Bogart (
1955
) thus argued that "the mass media provide a natural source of conversational material," with the content providing an "array of collective images" that can be "introduced into conversation." That is, the way in which the information is given "frames" the event, influencing the perception of that event amongst the recipient population (Reese et al.
2010
). In hazard communication and education it is fundamental that we define the components of such frames and recognize the message thereby communicated so as to allow an understanding of the readership's perception of, for example, a volcanic eruption impacting their community. For example, how will the reader viewing the three front pages of Figs.
1
,
2
and
3
—all of which were published in the local newspaper that serves the Island of Réunion during the April 2007 eruption of Piton de la Fournaise—view the volcanologist, volcanology and the on-going volcanic emergency?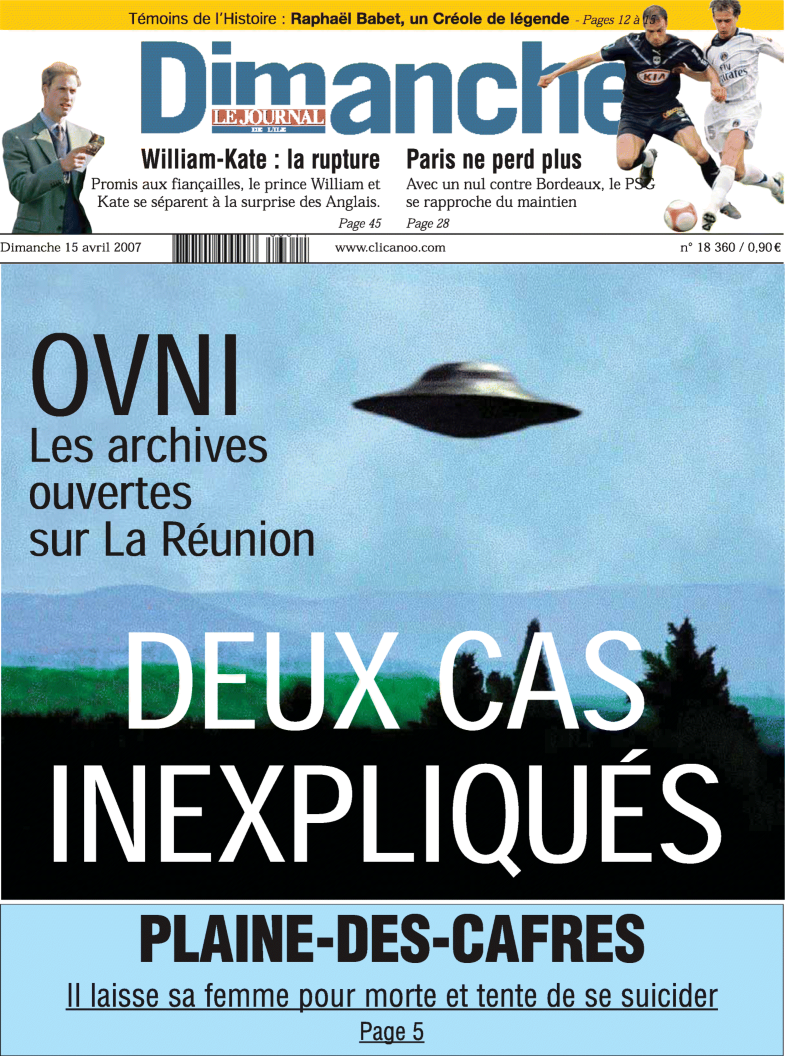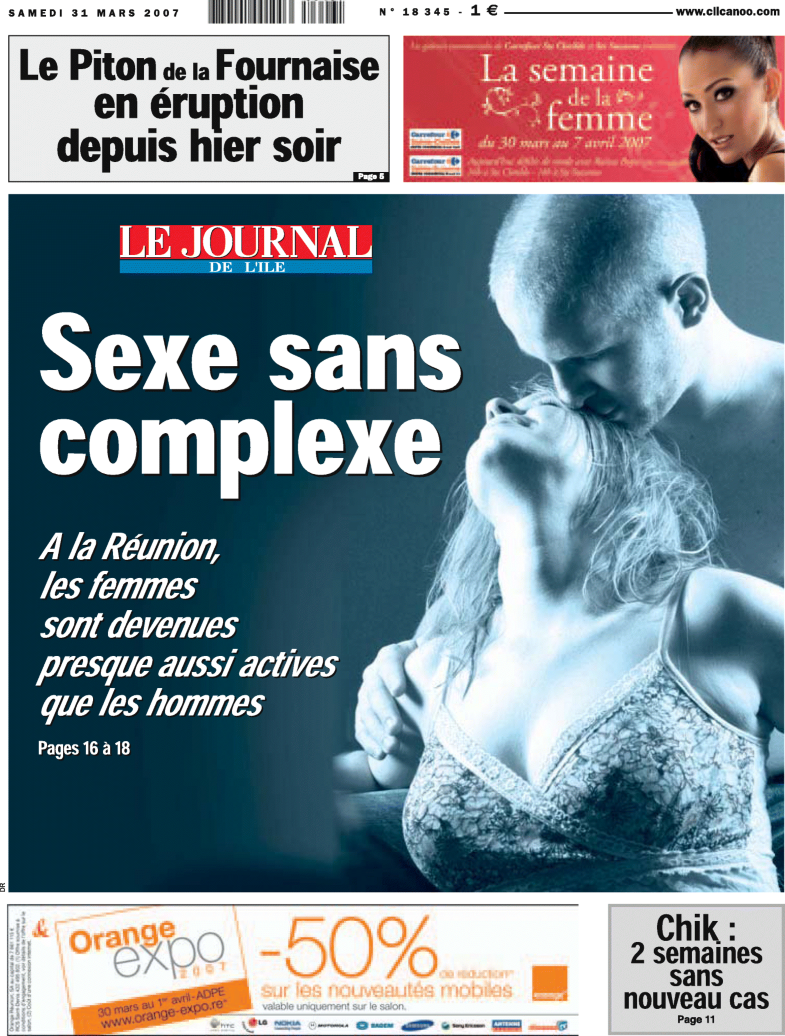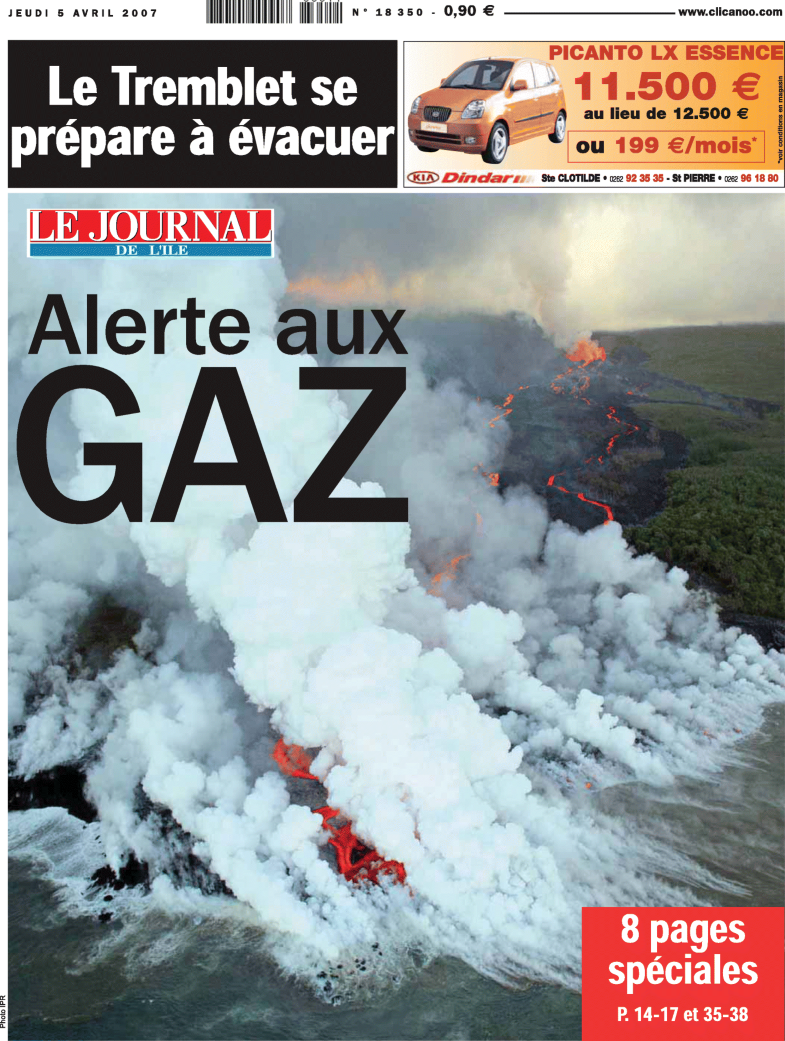 Our aim here is thus to assess the effectiveness of newspaper design in framing risk, hazard and response during a volcanic eruption, using the April 2007 eruption of Piton de la Fournaise (La Réunion, France) as our case study. This was the largest historical eruption of Piton de la Fournaise (Staudacher et al. 2009), with a short initial phase which began on 30–31 March 2007 being followed by a main phase that began on 2 April. While heavy tephra fall affected an area to the SE of the vent, gas effects were felt as far away as Mauritius (220 km to the NNE) and the village of Le Tremblet was evacuated (see Part 1 of this study). The eruption continued until 1 May 2007, cutting the island perimeter road, causing two major collapses of the Dolomieu Crater, setting up a major ocean entry (Staudacher et al. 2008), and leaving a deep and lasting impression in the minds of the impacted population (Payet 2007). Le Journal de L'Ile de La Réunion (JIR) is one of the two main island newspapers, and between February and May of 2007 hazard-related information appeared on the front pages of the JIR on 34 out of the 120 publication days and accounted for 21.94 m2 of newspaper space (see part 1 of this study Harris & Villeneuve, 2018). As we argue in Part 1, the opportunity to communicate, and thereby also educate on, volcanic hazard was thus maximized. Here we carry out a content analysis of this published information, focusing on the format of the messages displayed on the front page of the JIR, to assess the way in which that information was framed. This information, following the social amplification of risk framework (SARF) of Kasperson et al. (1988), and as evolved by Kasperson (1992), Kasperson and Kasperson (1996) and Kasperson et al. (2003), will inform on how the risk or hazard is perceived by the receiver (i.e., the readership) and whether or not the risk is amplified or attenuated. The hazard frame during a volcanic crisis thus needs to be defined and tracked if we are to understand how information is received and perceived by newspaper (and other mass media) readerships and, most importantly, how we can better communicate the desired message to the wider population during a volcanic emergency.
Framing volcanic hazard
Rowe et al. (2000) argued that, while the quantity of coverage of hazards will be a major influence on risk perception amongst an incident population, the way in which the media present the hazard information will also influence reader perceptions. That is, the media will report the hazard in such a way so as to encourage a certain perception of the event (e.g., Dawson and Lyons 2003; Washer 2004; Wallis and Nerlich 2005; Höijer et al. 2006). Thus, in the context of content analysis, framing becomes defined as the presentation of information in such a way that a particular interpretation, view or evaluation of an event is promoted (Entman 2004). This is the definition of "frame" and "framing" applied here, where information regarding the volcanic hazard passes through a series of filters that mean that information is organized and described (Kahneman and Tversky 1984) in a way so as to promote a particular interpretation (Harris 2015a).
The front page layout of a newspaper, for example, is carefully designed to display a clear message that makes a person want to buy the newspaper, while giving the reader something to think about (Rowe et al. 2000). In providing cues through pictures and colors, plus through delivery of a few, large, bold, evocative words in the headlines, newspaper front pages are extremely effective in delivering an immediate message (Naccarato and Neuendorf 1998); thereby framing the featured event (Reese 2010) and downplaying--through selecting and highlighting certain events over others (Entman 2004)--another (c.f. Figs. 1, 2 and 3). It is quite clear, for example, how the selection and use of images in the examples of Figs. 1, 2 and 3—all of which were published during the April 2007 eruption of Piton de la Fournaise—frame the natural hazard. In the case of Fig. 1 the event in which we are interested in communicating (the volcanic eruption and its hazard) has no presence and thereby goes unnoticed in spite of continued impact on communities in the SE of the island; the featured focus being an eye-catching distraction that will likely leave a lasting impression in the viewer's mind. In Fig. 2, the eruption is a secondary frame which is easily missed—being only given in text above a primary frame which is framed in image and text and which dominates the page. Again, both the text and imagery of the featured focus will likely dominant the viewer's attention. In Fig. 3, the volcanic hazard becomes the primary frame. In all cases, the primary frame has been set up through design.
Designing the news
Baddeley et al. (1975) argued that memory span is equivalent to the number of words that can be read in two seconds, where extensive testing has proved that 7 ± 2 "chunks" of information can be held in the short-term memory (see Cowan (2000) for thorough review). All of this leads to the conclusion that the most effective headline delivery is achieved with a short (7 ± 2 word) string of short, popular, familiar words, of interleaved middle and short length words, with the most important words appearing at the beginning and end.
In addition, messages are more quickly ingested if delivered in easy-to-read fonts, with display of selected words in uppercase, bold, larger size and/or color font being extremely effective in focusing the audience on the key message (e.g. Duarte 2008; Dirkson 2012; Reynolds 2014). Again, use of bold and color can be seen in setting up the headline hierarchy of Fig. 4.
It is also well-known that human-beings have a "vast memory" for pictures (Standing et al. 1972; Standing 1973), so that image-based messages can be much more memorable than texturally or verbally delivered messages (Paivio and Caspo 1973). Effective message delivery can thus be achieved through just a momentary glance at an image (Standing et al. 1972), with images containing a concealed object (or obscured object) being just as effective for mnemonic purposes as one in which all objects are pictured, although the latter is certainly a much more vivid communication means (Neisser and Kerr 1973). Use of appropriate imagery is also an effective communication device to enhance learning (Dutrow 2007). Carney and Levin (2002) thus argued that "whether ancient cave painting or computer screen icon, pictures are part of the human experience," so that "carefully constructed illustrations" are "effective text adjuncts" in message delivery.
In addition, Martin-Lagardette (2009) recommends, when considering imagery for inclusion on the front page of a newspaper, a preference for images that include faces or people. We can again see these design influences being applied in the front page example of Fig. 4. Thus, the agenda laid out in words and pictures in prominent newspaper positions will be a powerful influence in focusing public opinion on particular themes, issues or viewpoints (e.g., Katzman 1972; Morris and Peng 1994; Rowe et al. 2000). The front page design, and the frame this creates, thus needs to be considered in any content analysis aimed at understanding the effect of the news format on readership perceptions of a natural hazard.
Method
All editions of JIR published during March, April and May 2007 were checked for content regarding activity at Piton de la Fournaise. All front page articles relating to volcanic activity were then classified into one of two groups:
Front page flags (FP-F): that is, text boxes at the top or sides of the front page pointing readers to the most newsworthy stories inside the newspaper.

Front page spread (FP-S): this being the "story-of-the-day" featuring a large color photograph that dominates the front page with the primary (largest font) headline inset.
The text of all front page headlines were recorded, the type of hazard to which they referred assigned a class (following the coding system laid out in part 1), and the theme and dominant color of each image noted. The number of words in each headline, and the number of letters in each word, were also recorded, and images assigned a binary code depending on whether people or faces were present (1) or not (0). Internal articles relating to volcanic activity were processed following the methodology laid out in part 1 of this work.
We then carried out a "flash test" to assess the effect of the front page information content and design on the short term memory of the casual observer. The test followed the format of the short-term memory tests of Baddeley et al. (1975) whereby ten front pages on which the volcano and its activity was featured as the main image and headline were displayed for 1.5 s. Between each display, subjects were given nine seconds to write down those words that entered their head, before being given a five second stop cue, and then a five second pause during which a black screen was displayed. The next page was then displayed. The second test involved the display of only the front page flags. The test was the same, except that 11 front page flags were displayed, and the subjects were given just four seconds to write down all words they could remember from the text in any sequence. Finally, as a control, a front page on which the volcano was featured only as a front page flag, and one where no volcanic information was given, were displayed. The tests were applied to three groups, two with knowledge of the volcano and its activity, and who were regular visitors to active sites, and one with no such experience. The two experienced groups were all 19 staff members (research, operations, technical, administrative and non-permanent scientific members) of the Piton de la Fournaise Volcano Observatory (OVPF), plus 52 tourist-guide professionals attending a training program for guided visits to active sites during eruptions. The inexperienced group was 24 third year geography students at l'Université de La Réunion (St. Denis). Words recorded in each test were then placed into one of three classes: impacts or volcanic processes, normal life and perturbed life.
Results
A total of 23 front page articles devoted to volcanic activity (13 front page flags and 10 front page spreads) appeared between February and May 2007, of which 16 appeared during April (Table
1
). The average number of words appearing in front page headlines relating to volcanic activity was 5 ± 2, with a mode and median of four. This compares with 4 ± 2 for all front page headlines appearing over the 120 days of the study period, with a range of two to nine, a median of four, and a mode of three.
Table 1
Headline analysis of front page flags (FP-F) and spreads (FP-S) relating to activity at Piton de la Fournaise during March, April and May 2007
| Date | Type | Text: French (with English translation) | Hazard | Text Theme | Picture Theme |
| --- | --- | --- | --- | --- | --- |
| 27 March | FP-F | Volcan en vigilance et séisme à Saint-Denis (Volcano under surveillance and earthquake at Saint-Denis) | Seismic | volcano/vigilance/seismic/Saint-Denis | NO PICTURE |
| 31 March | FP-F | Le Piton de la Fournaise en éruption depuis hier soir (Piton de la Fournaise in eruption since yesterday evening) | Eruption | Piton/eruption/yesterday | NO PICTURE |
| 1 April | FP-F | Une autre éruption en vue (Another eruption on the horizon) | Eruption | eruption | explosion/ejecta |
| 3 April | FP-S | De la route à la mer (On the road to the sea) | Lava | road/sea | lava/responders/cameras/sightseers |
| 4 April | FP-F | NUAGE DE GAZ SUR ST-JOSEPH: Une cinquantaine d'élèves intoxiqués (GAS CLOUD OVER ST-JOSEPH): Around 50 students intoxicated | Gas | cloud/gas/toxic | NO PICTURE |
| 4 April | FP-S | LE VOLCAN DEVIENT FOU (THE VOLCANO'S GONE MAD) | Lava | volcano/mad | lava/fire/orange/sightseer |
| 5 April | FP-F | Le Tremblet se prépare à évacuer (Le Tremblet prepares to evacuate) | Evacuation | Le Tremblet/evacuate | NO PICTURE |
| 5 April | FP-S | Alerte aux GAZ (GAS alert) | Gas | alert/gas | cloud/white/lava/orange |
| 6 April | FP-S | Le Tremblet sous les cendres (Le Tremblet under the ash) | Ash | Le Tremblet/ash | people/cars/ash/road/umbrella |
| 7 April | FP-S | Le volcan s'effondre (The volcano collapses) | Collapse | volcano/collapse | crater/grey/black |
| 8 April | FP-F | Volcan à grand spectacle (The volcano big show) | Eruption | volcano/show | NO PICTURE |
| 9 April | FP-F | Sainte-Rose: de drôles de poissons repêchés au large de l'éruption (Sainte-Rose: the funny fish fished up at the height of the eruption) | Ocean Entry | Sainte-Rose/fish | fish/orange/bucket |
| 9 April | FP-S | Le Dolomieu après le chaos (The Dolomieu after the chaos) | Collapse | Dolomieu/chaos | brown/steam/crater/ash |
| 10 April | FP-F | Le volcan livre les mystères des abysses (The volcano delivers the mysteries of the deep) | Ocean Entry | volcano/mystery/abyss | lava/orange |
| 11 April | FP-S | Le nouveau visage du volcan (The new face of the volcano) | Collapse | face/volcano | crater/gray/sightseer/camera |
| 13 April | FP-S | Hier 15h05 (Yesterday 15h05) | Collapse | yesterday | brown/plume/volcano |
| 22 April | FP-S | Les secrets de la Soufrière (The secrets of the Soufrière) | Collapse | secret/La Soufrière | grey/crater/people |
| 27 April | FP-S | La lave en route vers le Tremblet (Lava on the road towards Le Tremblet) | Lava | lava/Le Tremblet | lava/orange/road/fire engines/village |
| 3 May | FP-F | Une des plus grosses éruptions du volcan (One of the biggest eruptions of the volcano) | Eruption | big/eruption/volcano | lava/orange |
| 5 May | FP-F | Quatre points de vue ouverts ce matin (Four viewing points open this morning) | Eruption | four/viewing/open | lava/plume/white/black/green |
| 6 May | FP-F | Volcan: 135 euros pour avoir vu les coulées de trop près! (Volcano: 135 euro to have seen the lava flows close up) | Lava | volcano/135 €/view/lava | tourists/barrier/lava/black |
| 13 May | FP-F | Le sommet s'effondre à nouveau (The summit collapses again) | Collapse | summit/collapse/again | trees/brown/cone/yellow/lava/black/tourists |
| 26 May | FP-F | Coulées du Grand-Brûlé: pas de route avant août (Lava flows of the Grand-Brûlé: no road before August) | Lava | lava/Grand-Brûlé/road/August | NO PICTURE |
In terms of design, all front page formats followed the model of Fig.
4
. The example of Fig.
3
illustrates adherence to this format by the newspaper on a day when the volcano featured as the front-page spread:
1.

Headline placement at top reading "Le Tremblet prepares itself to evacuate", which in French is three moderate-length (7–8 letter) words separated by three short (1–2 letter) words, making it a perfectly-sized phrase for ease of recall.

2.

A sub-element involving three, short, simple words (Alert to GAS) in a large, bold font, with the hazard (Gas) being capitalized.

3.

Effective use of color for the main image, and a simple white font on a black background for the front page flag, plus red for the pointer to the internal page reporting;

4.

The image expressing the subject takes up 83% of the front page.
If we examine the front page examples given in Figs.
5
and
6
, we see an identical design in terms of word and imagery use and layout. Given the recommendation of Martin-Lagardette (
2009
) regarding inclusion of people or faces in front page images, we also checked all front-page spread images for such a preference. Of 117 front pages examined over the four month study period, a face or a person featured in 91 of them. That is, 78% of the front pages featured a person carrying out an action. When associated with hazardous situations this involved firemen, policemen, civil protection officials or coastguards; meaning that in each case a responder was pictured protecting structures, responding to crime, assessing a hazard, or rescuing people. Note, for example, that the main images of Figs.
5
and
7
include people, with Fig.
5
including a policeman (Gendarmerie)—even if he is in the second row and taking a photograph.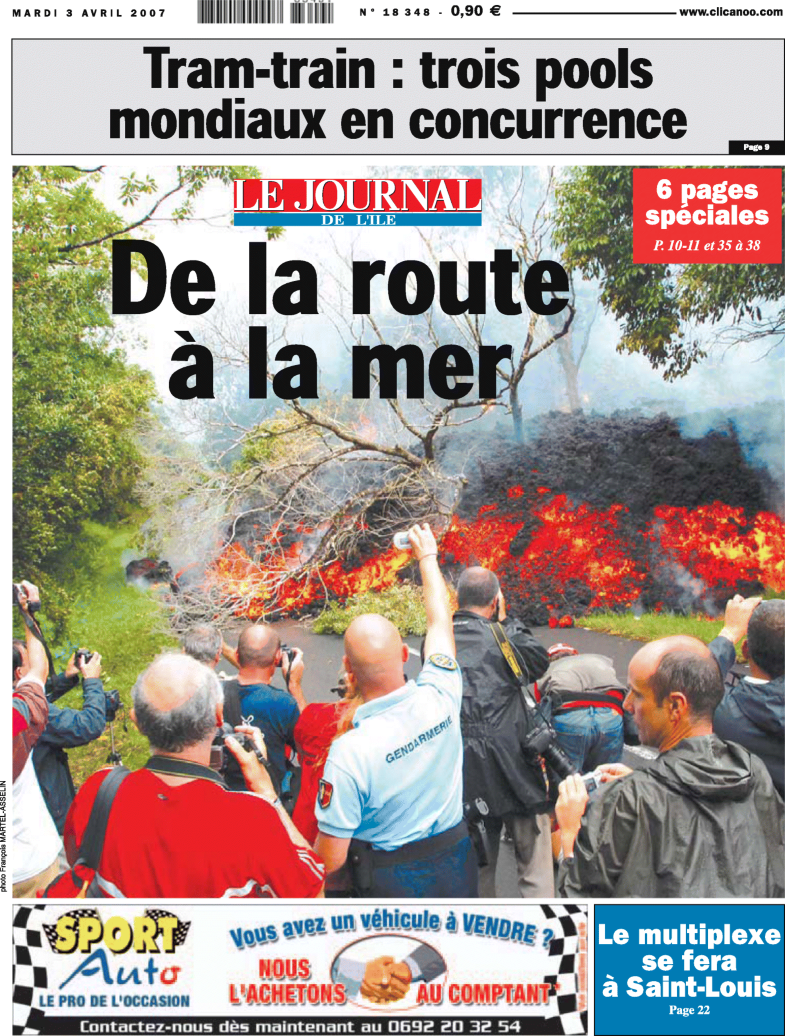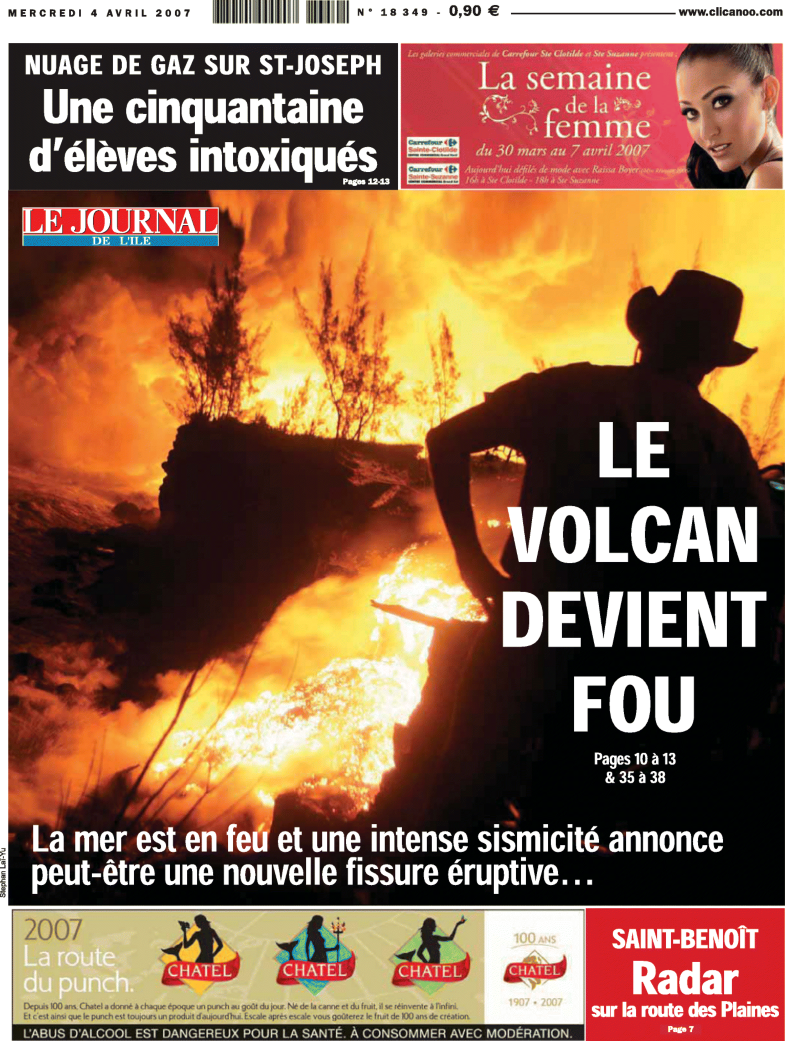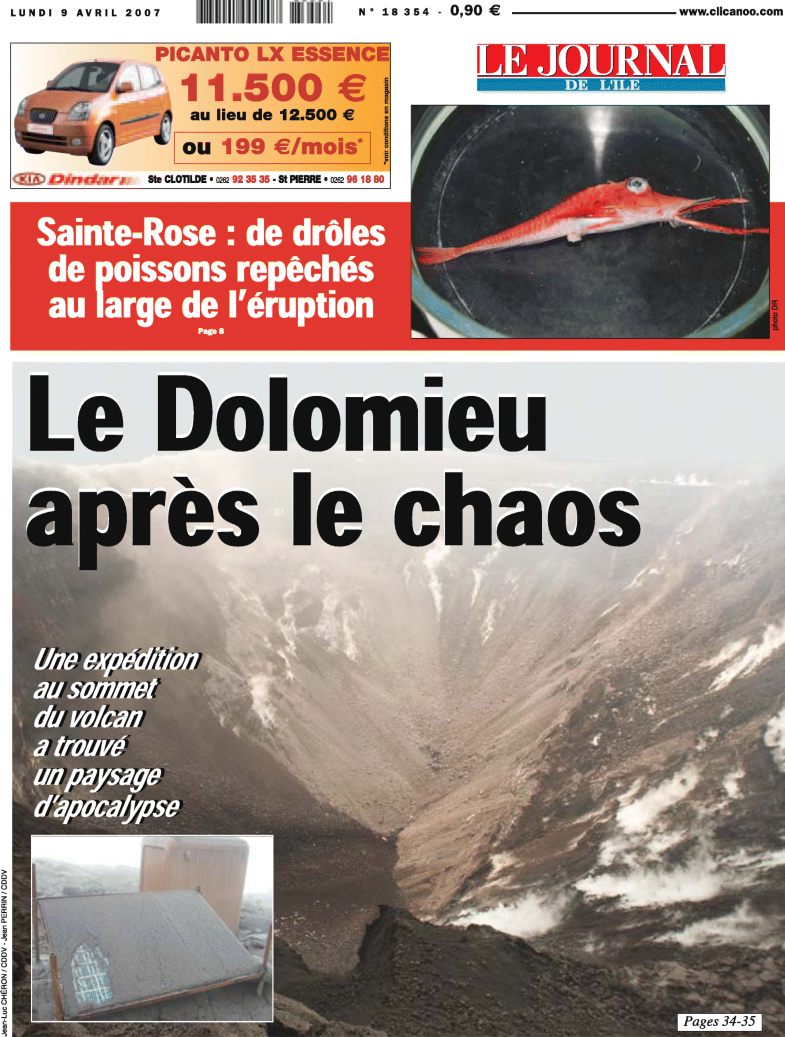 What volcanic hazards did the front page focus on?
By number of front pages carrying volcanic hazard as the main theme, the collapse events of the Cratère Dolomieu featured most highly, being the main theme of six of the front page articles. Next was lava (five front page appearances), followed by gas and ocean entry hazards (two appearances), with seismic, ash and evacuation themes featuring on the front page just once (Table
1
). However, if we complete a word count on all words appearing in all front page headlines of Table
1
, we instead have the following ranking:
1.

Volcano (eight occurrences);

2.

Eruption (four occurrences);

3.

Le Tremblet (three occurrences);

4.

Road (three occurrences).
Thus, in terms of word repetition, the material damage (to the road) caused by lava ingress and the need for evacuation (of Le Tremblet) were the most important issues. These were texturally linked with the generic hazard due to the volcano or the eruption, rather than specific hazards such as lava flow, air fall or gas. In terms of individual hazard, lava + flow was the most frequently used (three occurrences), followed by gas and collapse (both with two occurrences), and then seismic, ash and sea each with one occurrence.
In terms of the dominant theme of the front page, this began with lava and the crossing of the road and ocean entry on 3 and 4 April, respectively. Focus then switched to gas and air fall on 5 and 6 April, respectively, before becoming entirely focused on the collapse of the Dolomieu (on 7, 9, 11, 13 and 22 April). This was in spite of the fact that the main collapse occurred on 6–7 April, but ocean entry and lava flow continued throughout the eruption. The threat of lava flow invasion to Le Tremblet only became a focus again on the final front page that featured the eruption, that of 27 April, when the eruption had more-or-less ended. Thus, the reporting of hazard followed the primary activity type until 7 April, when the focus became distracted by the collapse of the Dolomieu; the "hazard-of-the-day" being demoted to an (often-poorly framed) front page flag (e.g., Fig. 7).
Words and images
In terms of the words and imagery associated with the eruption we find the following commonalities:
Lava was associated with the color orange during the eruption, and black after it; the collapse was framed in gray and the gas plume in white (c.f. Figs. 3, 5 and 7);

With one exception, people were always pictured taking photographs. Note that all 11 people in the front page image of Fig. 5 are taking a picture; as already noted this even includes the responder—even the scientist-in-charge of OVPF was pictured taking a picture when he appeared in the front page image of 11 April 2007;

With one exception, people appearing in eruption imagery were always sightseers and tourists (e.g., Fig. 6);

Words and pictures associated with ocean effects focused on "fish", "mystery" and the "abyss", with the ocean entry being framed in such a way three times on the front page as a flag (Table 1). A good example of this frame is the example of Fig. 7, which frames the ocean effects with a picture of a dead exotic-looking fish against a neutral background which, although being the bottom of a sample beaker, has a first-glance resemblance of a frying pan;

Keywords used changed in time from

○ "vigilance" through

○ "toxic", "mad", "evacuate", "alert" and "chaos", to

○ "show", "mystery", "new face", "secret", "open" and "view".
The event-frame thus evolved from one of alert to one of show; attracting sightseers who took photographs from a close distance, with the time-frame invariably being "yesterday" (Table 1).
Flash tests
After that, all other words recorded were the same—with the exception of "fumes", which was only recorded by the student group. Interestingly, the OVPF and guide groups both had "Dolomieu" and "flow" as the 4th and 5th most commonly recorded words, whereas the student group had "road" and "fumes". This no doubt reflects better familiarity with the volcano and its products amongst the former two groups than the latter, with fumes being the association of the students with the plume.
Discussion
Because of the excellent design of the front page of JIR in terms of maximizing information delivery to the short-term memory, it is important to understand what message was likely received by the readership and how that framed each volcanic process and its associated hazard. We here discuss what that message was, and search reports deeper in the newspaper to understand if this message was supported by the detailed reporting within the body of the newspaper. We then finish by exploring what were the effective elements of the framing process, so as to provide guidelines as to how the volcanologist can define, track and respond to frames in the mass media.
The frames
Our content analysis shows that only the well-known (pit crater and lava flow) hazards were framed in a way that provided effective hazard communication that could achieve the disaster managers goal, that being to educate the population through reporting in the mass media (e.g., Coppola 2015). Instead, gas, air fall and ocean entry hazards, as well as evacuation plans and the functioning of decision making system were poorly framed, thereby failing as an educative measure. Instead, they served to further engender a frame of entertainment, uncertainty, fear, panic and failure.
Conclusion
Generally, as a gauge for information content, the front page of the JIR was always a mirror for its contents, with the frame delivered by the front page being supported by the responses of the flash tests. Although, as found in part one of this study, the quantity and quality of hazard information was excellent, the way in which it was framed was not so positive. Not surprisingly, hazards related to frequently experienced, and hence familiar, volcanic phenomena (lava flows and pit craters) were well-framed, but those relating to unfamiliar phenomena (widespread gas effects, air fall, evacuation and ocean entry/bench collapse) were not. Pit crater collapse and lava flow hazards were framed using their natural colors and using clear imagery of the phenomenon, although—for lava flows in particular—there was an element of spectacle and promotion of sightseeing. Gas and ash fall hazard became framed using images and words of the victims, so that it became worrying and frightening, and associated with panic. As a result, the volcano became framed as a monster and situation apocalyptic and hellish which, within the framework of SARF (Kasperson et al. 1988), amplified the risk and built fear. This probably contributed to the evacuation measures being framed as confused and pointless. In contrast, the ocean entry and bench collapse had no hazard-frame at all, and instead became associated with the exotic fish that bobbed to the surface. Thus, this volcanic process became attenuated to the point of it not existing as a risk; but being framed simply as a curiosity. This was due to the hazard being beyond the experience of the reporters.
In tracking the frames apparent in the media, there is an opportunity for the volcanology community to understand how people perceive volcanic hazard based on material published in the mass media during a volcanic crisis. We can use this knowledge to act on gaps and misconceptions that appear as they are published. If we have real-time knowledge, we can respond quickly through the use of internet (professional websites, professional social media accounts, etc.), addressing concerns at town hall meetings and (well-advertised) public presentations, and by contacting reporters with appropriately selected and presented information. In all cases, the needs, understanding, perception and concerns of the recipient will have been pre-empted through an appropriate analysis of information disseminated by the mass media and its frame.
Declarations
Acknowledgements
We are extremely grateful to all participants in the flash tests for agreeing to participate and for consenting to use of the results. Two anonymous reviewers, and the associate editor (Ilan Kelman), provided excellent advice on how to better communicate this work and its implications. We are also exceedingly grateful Philippe Le Claire (Director of the JIR) for granting us permission for reproduction of JIR material and front pages in support of this scientific application. This is ANR-LAVA contribution no. 3.
Availability of data and materials
Raw data used here were PDF copies of the newspaper "Le Journal de L'Ile de La Réunion" (JIR). These PDFs are available (for purchase) from https://www.payandread.fr/4DACTION/NewSwitchPublication?publicationID=18 https://www.clicanoo.re/. Argument support taken from each PDF is given as referenced. We provide here the results of our headline analysis which is given as an EXCEL spreadsheet in the electronic supporting material (Additional file 1). Also given in the electronic supporting material are the results of our flash tests for group A (Additional file 2: Group A), group B (Additional file 3: Group B) and group C (Additional file 4: Group A), with – for the sake of anonymity – all names removed.
Authors' contributions
Both authors have reviewed this manuscript and contributed to its content. Both authors read and approved the final manuscript.
Competing interests
The authors declare that they have no competing interests.
Publisher's Note
Springer Nature remains neutral with regard to jurisdictional claims in published maps and institutional affiliations.
Open AccessThis article is distributed under the terms of the Creative Commons Attribution 4.0 International License (http://creativecommons.org/licenses/by/4.0/), which permits unrestricted use, distribution, and reproduction in any medium, provided you give appropriate credit to the original author(s) and the source, provide a link to the Creative Commons license, and indicate if changes were made.
Authors' Affiliations
(1)
Université Clermont Auvergne, CNRS, IRD, OPGC, Laboratoire Magmas et Volcans, Aubière, France
(2)
Observatoire Volcanologique du Piton de la Fournaise, Institut de Physique du Globe de Paris, Sorbonne Paris Cité, CNRS, Université Paris Diderot, Paris, France
(3)
Laboratoire GéoSciences Réunion, Université de La Réunion, Institut de Physique du Globe de Paris, Saint Denis, France